We simply adore making Christmas tree crafts, and today we want to share a really adorable and easy one. My Preschool Kids love to do this Christmas Tree Fingerprint Silhouette Art Craft because it's easy and enjoyable. Our children like creating interactive artwork to bring home to their families. A goofy method for children to create lovely crafts to beautify our classroom or house is with this fingerprint project.
You can check out these cute DIY Christmas crafts for your preschoolers and kindergartners:
Looking for more 25+Christmas Art and Craft activities? Check out my blog. I love the month of December as it has a special festive feeling. Christmas is the time of the year my students awaits as we have a blast at our Christmas party with these super thrilling Christmas Bingo, Santa Says ,Would you rather and more Christmas Games!!!
Christmas tree Fingerprint Silhouette Craft
What better way to get into the holiday spirit as Christmas approaches swiftly than by creating some enjoyable Christmas crafts? For preschoolers and kindergarteners, this Christmas tree Fingerprint Silhouette craft project is a fun way to encourage creativity and holiday spirit. To make a masterpiece of a colorful Christmas tree, they can use various colors. So gather your materials, and let's begin!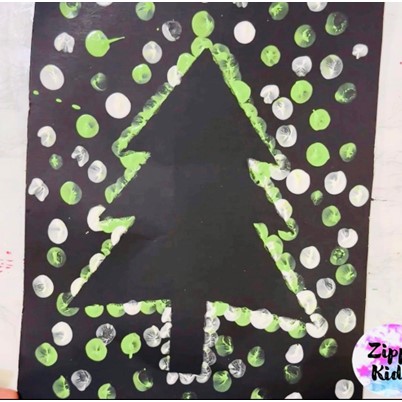 First things first, Download this Free Christmas Tree Template. I folded the paper in half and drew half of a Christmas tree shape along the folded side. The student will begin by taping the Christmas Tree on the paper in the desired location. Under the Christmas Tree shape, we used two rolls of paper. It's time to get painting now! Make fingerprints by dipping one finger into the paint. Make careful to first fingerprint the entire edge of the shape. Start making sporadic fingerprints all over the paper after making them along the shape's edge.
Once you've covered the paper completely with fingerprints, it's time to peel out the form and reveal your Christmas tree! The enjoyable part is now. Peel slowly, being careful not to rip the paper, the colored Christmas Tree shape.

Christmas themed Name Crafts are too cute to be missed! Also do not miss my Ginger breadman Literacy and Math Centers. Students will practice early math and literacy skills like number matching, sight word recognition, letter and sound matching, and so much more! Keep reading to check out each individual activity or grab all of them in a bundle Christmas Literacy and Math Centers for Preschool, pre-k and Kindergarten.
Check out the Video here:
As December begins I get students to make these super cute Christmas Name Hats which is a great craft for name recognition and fine motor skills. December is also the month to teach kids about Holidays around the world!
Do not miss to grab these Winter FREEBIES from my Website: