Create a photo snow globe craft for a quick ornament or keepsake that kids can do on their own with the help of this simple Snow globe craft template.
Looking for more 25+Christmas Art and Craft activities? Check out my blog. My students awaits as we have a blast at our Christmas party with these super thrilling Christmas Games!!!
Do not miss these super easy and cute 40+ Winter Craft ideas which are one of my favorites. Check out this DIY snowglobe craft too!
Photo DIY Christmas ornaments are the greatest since they can be used as both a classroom craft and a homemade present for family members.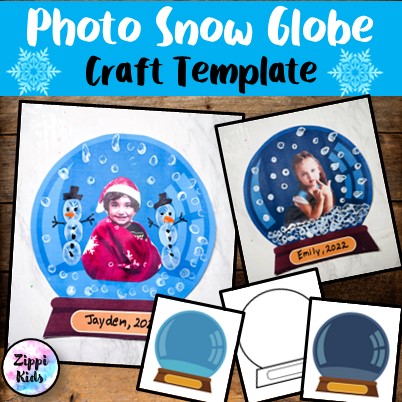 You can make a card out of this cute Photo Snow Globe Craft template and give it as a present to friends and family. This beautiful Christmas card will be a hit when given as a present, and young children will enjoy helping to make it. To make it even easier, I've included our free printable snow globe template!
Winter themed Name Crafts are too cute to be missed! Also do not miss my Mitten Literacy and Math Centers. Students will practice early math and literacy skills like number matching, sight word recognition, letter and sound matching, and so much more! Keep reading to check out each individual activity or grab all of them in a bundle Snowman Literacy and Math Centers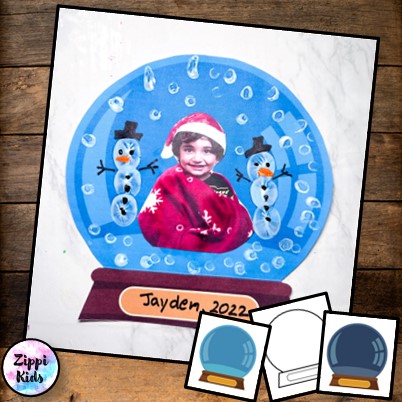 Get creative with these simple snow globe templates. It's a super low prep craft activity for winter! All you need to so is follow these simple directions and get explore your creativity through these snow globes!
Supplies Needed:
our snow globe ornament template
glue
scissors
photo
white craft paint
q-tip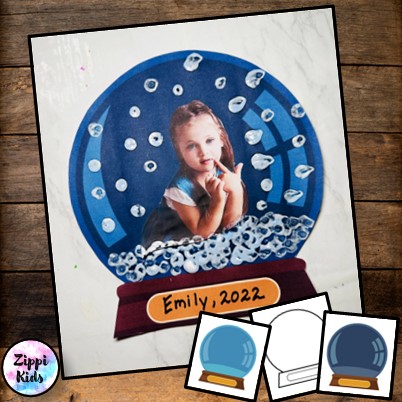 How to make photo Snow globe craft using my template:
Make sure your supplies are organized and ready to use before you begin. Download the snow globe template and print it together with your child's picture. Scroll down to the bottom of this page to find the template.
To get started stick the photo cutout of the child in the center of the globe
Using a q-tip and white paint start dabbing it all over the globe to look like snowflakes
You can use fingerprints to make snowflake as well
Using a Sharpie marker write the name, year and grade of the student
Laminate the snow globe for durability
I have also provided a blank template where the students can color and create their own snow globe drawings.
Download Snow globe template from my Website or TPT Store


Check out the video here: