Admit it, fingerprint crafts are one of the cutest and easiest fine motor crafts for kids to do! This fingerprint Christmas tree craft is just perfect fine motor activity for pre-k, preschool and kindergarten. Tiny fingers making this Christmas tree craft is a sight to watch and is a great keepsake for parents!
I bet you will love this super adorable puffy Christmas tree sensory fork art , which is a fun and easy Christmas craft activity for handwriting practice ! It's a wonderful fine motor activity for preschool, pre-k and kindergarten kids.

You can check out these cute DIY Christmas crafts for your preschoolers and kindergartners:
Looking for more 25+Christmas Art and Craft activities? Check out my blog. I love the month of December as it has a special festive feeling. Christmas is the time of the year my students awaits as we have a blast at our Christmas party with these super thrilling Christmas Bingo, Santa Says ,Would you rather and more Christmas Games!!!
Fingerprint Christmas tree art
Super cute and easy! Our adorable fingerprint Christmas tree art would be a great addition to your holiday bulletin board or use this design process when making holiday cards for friends and family! All you need is paper, markers, and paint! So simple and so cute!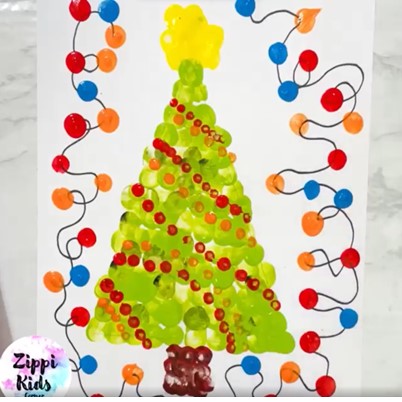 Start by drawing out a simple Christmas tree design on blank paper. Then students can dip their fingers into green paint and dab spots of green all over the tree until it is completely covered in green. Next, students can decorate the tree by using a variety of paint colors and smaller spots (try using pinkies instead of thumbs!).
Christmas themed Name Crafts are too cute to be missed! Also do not miss my Ginger breadman Literacy and Math Centers. Students will practice early math and literacy skills like number matching, sight word recognition, letter and sound matching, and so much more! Keep reading to check out each individual activity or grab all of them in a bundle Christmas Literacy and Math Centers for Preschool, pre-k and Kindergarten.
Check out the Video here:
As December begins I get students to make these super cute Christmas Name Hats which is a great craft for name recognition and fine motor skills. December is also the month to teach kids about Holidays around the world!
Do not miss to grab these Winter FREEBIES from my Website: