Roll a Die and Draw a Snowman Game for preschool is a fun winter snowman game to try if you're searching for a quick game for your preschool and kindergarten students! A die, some colored pencils, and our game sheets are all you need. You can get this game link and instructions from the bottom of this page.
Looking for more 25+Christmas Art and Craft activities? Check out my blog. My students awaits as we have a blast at our Christmas party with these super thrilling Christmas Games!!!
Do not miss these super easy and cute 40+ Winter Craft ideas which are one of my favorites. Check out this DIY snow globe craft too!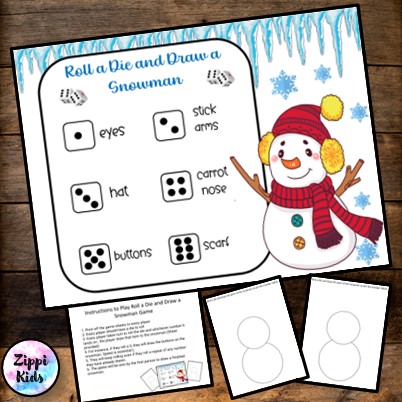 How to Play Roll a Die and Draw a Snowman Game
Print off the game sheets to every player
Every player has a die to roll
Every player takes turn to roll the die and whichever number it lands, draw that item to the snowman.(Sheet provided)
For instance, if they roll a 3, they will draw the buttons on the snowman. Speed is essential:).
They will keep rolling even if they roll a repeat of any number they have already drawn.
The game will be won by the first person to draw a finished snowman.
Winter themed Name Crafts are too cute to be missed! Also do not miss my Mitten Literacy and Math Centers. Students will practice early math and literacy skills like number matching, sight word recognition, letter and sound matching, and so much more! Keep reading to check out each individual activity or grab all of them in a bundle Snowman Literacy and Math Centers