Magna Tiles Letter, Numbers, Shapes and Patterns Printable downloadable cards are a wonderful addition to your literacy and Math corner since they enable children to create letters using Magna-Tiles, Picasso Tiles, and other magnetic tiles. Preschoolers and kindergarteners who enjoy construction can learn the alphabet in a fun, hands-on way with this STEM activity. Check out the Magnetic Tiles alphabets, Magnetic Tiles 2D Shapes, Magnetic Tiles numbers, and Magnetic Tiles patterns. Check out these15 hands-on fine motor and sensory based centers using STEM manipulatives which would be loved by your students: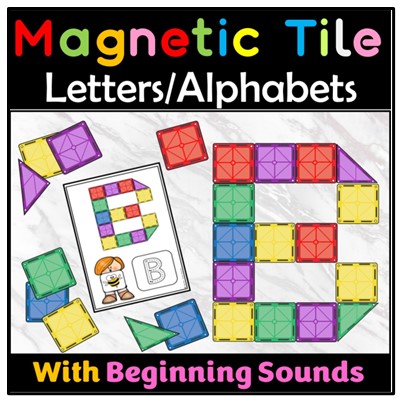 If you like this, the do Check out this Literacy and Math manipulatives centers, STEM, Fine Motor -GROWING BUNDLE!
Magna tiles and Legos are one of my kid's favorite toys! He absolutely loves playing with them. Magna-Tiles are magnetic building tiles that can be put together to create intricate geometric structures that are both two- and three-dimensional. With our Magna-Tiles, we constructed uppercase letters. Later, we worked on numerals and lowercase letters as well. I made printable cards of our Magna-Tile letter patterns so that my kids could revisit them whenever he needed to. He repeats the information on the cards and utilizes them as puzzles which helps his matching and patterning abilities. Then, other times, he enjoys making up his own versions and improvising.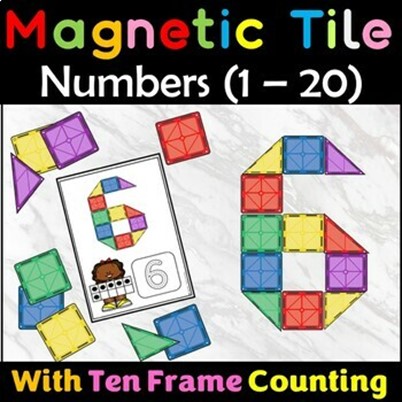 Magnetic Tiles Literacy and Math centers are loaded with fun. This Magna tiles cards Bundle has Uppercase letters, Lowercase Letters, Numbers, Shapes and Patterns and can be used to make letters with Magnetic tiles, Picasso Tiles and Magna Tiles. A super hands-on way to engage students while learning to build their Letters/Alphabets, Numbers, shapes and more. These centers can be used to introduce, recognize, build and trace letters, numbers, shapes and more to pre-k and kindergarten students. A fun, play-based literacy activity that can be used all year.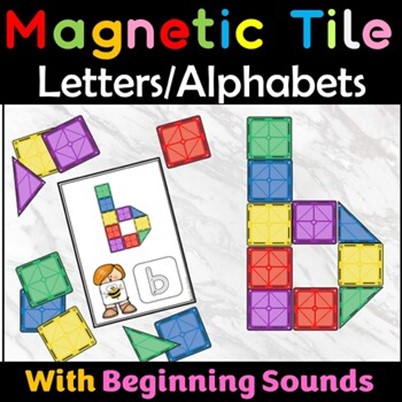 This center contains:-
26 Uppercase Letters with beginning sound picture
1 - 20 Numbers with Ten frame counting
26 Lowercase Letters with Beginning sound picture
16 Shapes with activities
Patterns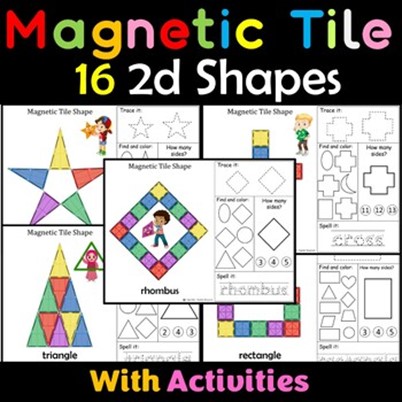 Ways to Use Magna tiles Center Cards
for a fun activity at home
On a magnetic surface, such as a refrigerator
In small group settings in a classroom
Literacy or Math Center in School