Tape resist art is one of the easiest and most fun crafts for kids. For every season I make sure to do a tape resist craft and this tape resist Christmas tree craft is the latest addition for the festive season! These Christmas tree craft is easy to make using washi tape and paint. You can use this for a beautiful handmade Christmas cards or frame them to display.

You can check out these cute DIY Christmas crafts for your preschoolers and kindergartners:
Looking for more 25+Christmas Art and Craft activities? Check out my blog. I love the month of December as it has a special festive feeling. Christmas is the time of the year my students awaits as we have a blast at our Christmas party with these super thrilling Christmas Bingo, Santa Says ,Would you rather and more Christmas Games!!!
Tape Resist Christmas Tree Craft
Teaching your students about space, resistance, and design elements in art? Our tape resist Christmas tree art makes a wonderful Christmas tree craft for kids this holiday season! All you need to get started is tape (Washi tape works best due to its removable qualities), paint, and canvas or paper.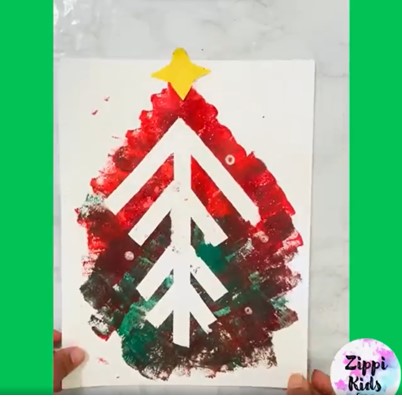 Using tape, create an empty evergreen tree-like design. This represents the trunk and branches of the tree. Paint over the tape making the needles (leaves) of the evergreen tree next. Once your students have completed their evergreen design, add the final touches like glitter and a star at the top of the tree. The last step is to remove the tape. This gives your tree a space design element and shows your students how resist art works.
Christmas themed Name Crafts are too cute to be missed! Also do not miss my Ginger breadman Literacy and Math Centers. Students will practice early math and literacy skills like number matching, sight word recognition, letter and sound matching, and so much more! Keep reading to check out each individual activity or grab all of them in a bundle Christmas Literacy and Math Centers for Preschool, pre-k and Kindergarten.
Check out the Video here:
As December begins I get students to make these super cute Christmas Name Hats which is a great craft for name recognition and fine motor skills. December is also the month to teach kids about Holidays around the world!
Do not miss to grab these Winter FREEBIES from my Website: