We made one of the cutest turkeys I ever saw to decorate for Thanksgiving because I love making handprint and footprint crafts with my kids because they always make me cry! This Handprint and Footprint Turkey Craft Keepsake for Kids is wonderful to display in your home or have kids do for loved ones they are grateful for (like mom and dad and grandma and grandpa).

Thanksgiving is one of my most favorite times of the year! Thanksgiving is such a fun holiday for all- kids and grown ups! You can make it even more special by using these 15+ Turkey Thanksgiving craft ideas with your preschoolers and kindergarteners. Do check out my 25+ Fall Craft ideas my preschoolers and kindergarteners. Incorporate these super easy and hands on Turkey arts and crafts activities for Thanksgiving to promote sensory, fine motor, problem-solving, math, and literacy skills all while having fun in an engaging way!
Let's get going with these super fun Turkey craft for Thanksgiving!
Handprint and Footprint Turkey Craft
Use the children's handprints and footprints to create a bright, joyful turkey for Thanksgiving! This activity is a super fun and easy sensory activity for Thanksgiving. This like other in a bottle craft is perfect for younger kids and is almost mess free. This Turkey color mixing craft is an awesome science lesson too! The handprints as turkey feathers are just too adorable!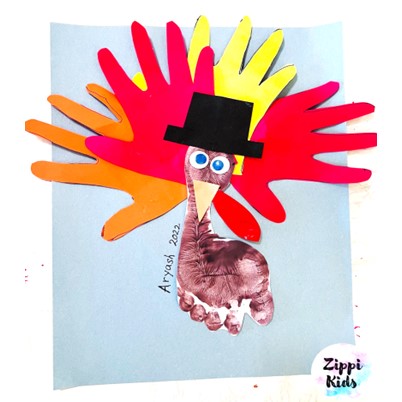 Simply apply brown paint to their foot, then stamp it on some white paper. Cut the outside of it once it has dried, then add a construction paper beak, gobble, and googly eyes. For handprints, trace kids hand on orange, yellow and red construction paper and cut them out. Take another Construction paper to make the craft base, stick the handprints first looking like turkey feathers and the add the footprint cutout in the center. I added a pilgrims hat to the turkey too!
Check out my TPT store to grab your Free Turkey template! For many of these thanksgiving activities, you will need this super fun Turkey Template. If you love these thanksgiving activities. Want to learn about some of the best ideas for fun Halloween art and craft activities in the classroom? Do Like and Follow my Facebook Page for updates on such art and craft activities!

Check out the video: