This adorable marble painted winter mitten craft for preschool and kindergarten is just too cute to miss! This mitten winter craft is super easy and fun to make. It's a great hand and eye coordination and fine motor activity for kids. This is a super fun, engaging, and easy winter crafts and activities for kids- toddlers, preschool, and kindergarten students. This craft goes very well with Mittens Math and Literacy centers . This blog contains winter activity which promotes fine motor, sensory, counting, art, and other early education skills in toddlers, preschoolers and kindergartners. Do not miss to check out my 30+ Winter crafts for preschool!
Looking for more 25+Christmas Art and Craft activities? Check out my blog. My kids love to do these winter name crafts during the month of January and February. Have you checked out my Snowman Math and Literacy Centers yet?
MARBLE PAINTED WINTER MITTEN CRAFT
This marble painted winter mitten craft is a fun and easy winter craft for kids using only a few supplies. All you need is my free mitten in a bag printable, a container, paints and marbles.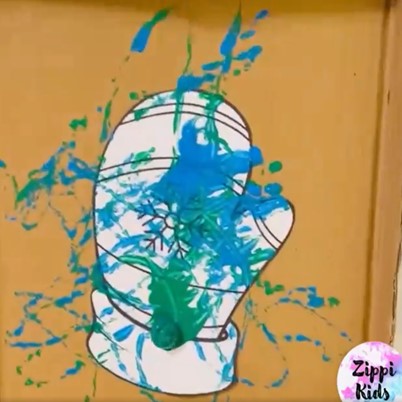 Supplies:
paints
box lid or tray
marbles
card stock or construction paper
tape
scissors & glue
Grab your mitten template and cut it out. Tape all the mitten on the inside of a box lid. Put drops of paint on the mitten randomly.Drop the marbles into the box lid and let the kids shake them back and forth. After covering the mitten with marble tracks, remove and let dry. I really loved how these marble painted mittens turned out!
Check out the video here: