Leaves craft, Pumpkin crafts and Fall Tree crafts are the flavor of the season. If you are a teacher or parent of a toddler, preschooler or kindergartner looking for easy and fun art and craft ideas you have landed on the right page! This Fall Leaf Sponge Painting Art for kids for preschoolers is just the perfect art project for fall.
Free Fall Leaves Template is something you would definitely love to check out! Teachers grab your lesson planners and fill up each day with 25+ of the best fall crafts for your preschool and kindergarten-age kids!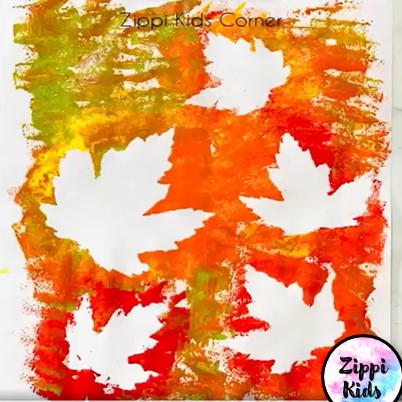 Okay, I know you'll agree with me here. Sponge brushes are an elite crafting tool. THERE. I said it! They bring endless amounts of fun, so many textures, and they're SUPER cheap. Each time your students put the brush down, it leaves a slightly different paint stroke behind… there is something so much fun and unique about that! Encourage your kids to play with different strokes and patterns with sponge brush so they can see for themselves how fun art can be.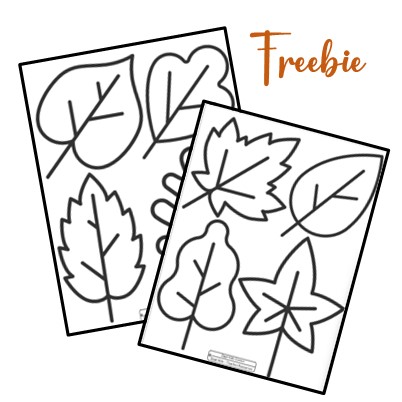 Check out my TPT Store for more fun fall resources. These fall leaves crafts can be easily executed using these free fall leaves template.
Supplies required:
Paper
Leaves
Paint
Sponge Paintbrush
Scotch tape
Fall Leaf Sponge Painting Art-How to:
Grab a variety of sizes from your leaf collection and secure them to your piece of paper, leaving plenty of room in between each one. Take your sponge paint brush and begin to pat the paint around the edges of each leaf. Be sure to encourage the kids to mix the colors! After you blot all around the leaves go ahead and fill in the remaining open spaces on the paper with your sponge paintbrush. Once you have it completed remove the leaves and scotch tape and see the unique outlines left behind!
Check out the detailed video of Silhouette Fall Leaf fingerprint Art:
This sponge painting fall leaf art is would make a great small group and early finisher activities. They would also be the perfect opportunity to bring in some older kids and have them help with the small groups by making sure supplies are ready and used properly.