Scrape painting is a super cool process art for color mixing! Students can explore their creativity in so many ways. Scarpe art technique is a mess-free way to create some of the most beautiful masterpieces for your bulletin boards! Kids will have so much fun scrapping the colors using a popsicle sticks to create this amazing Turkey artwork for Thanksgiving!

Thanksgiving is one of my most favorite times of the year! Thanksgiving is such a fun holiday for all- kids and grown ups! You can make it even more special by using these 15+ Turkey Thanksgiving craft ideas with your preschoolers and kindergarteners. Do check out my 25+ Fall Craft ideas my preschoolers and kindergarteners. Incorporate these super easy and hands on Turkey arts and crafts activities for Thanksgiving to promote sensory, fine motor, problem-solving, math, and literacy skills all while having fun in an engaging way! Check out my TPT store to grab your Free Turkey template! For many of these thanksgiving activities, you will need this super fun Turkey Template. If you love these thanksgiving activities, I bet you can't miss my 25+ Fall Leaf Art and Craft ideas. Want to learn about some of the best ideas for fun Halloween art and craft activities in the classroom? Do Like and Follow my Facebook Page for updates on such art and craft activities!
Let's get going with these super fun Turkey craft for Thanksgiving!
Scrape Painting Turkey Art Project
Scrape painting is a super art process for color mixing! Students can create this super cool Turkey by using just red, yellow and orange paint and create some new range of colors in the process! Kids will enjoy scrapping the colors using a popsicle sticks t o create this amazing artwork for Thanksgiving. To recreate this scrape Turkey craft activity at home, all you need is paint, construction paper, Ziplock bag, googly eyes, red pom pom, popsicle stick and plain white cardstock paper paper!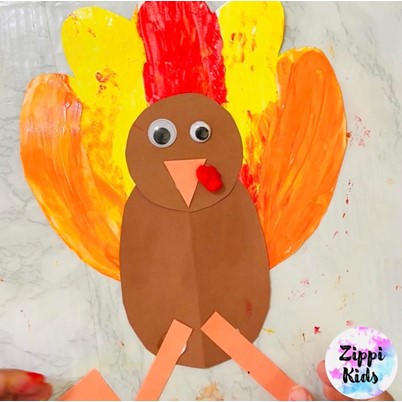 First, students will need to grab a cardstock paper and cut out turkey feathers ( It can be a simple circle too!). Squirt paint of the edges of the feathers in any order. Put the cardstock in a ziplock bag carefully without smudging the paints. Now start the scarping process starting from top to bottom. Spread out the colors as much as can be to cover the white paper. Once done, carefully take the paper out of the ziplock bag and keep it to dry!
Check out the video: