This DIY Christmas Gift for parents Ceramic plate Ornament fingerprint wreath and picture makes the cutest Christmas gift for parents of your little ones! They would love and cherish this Christmas ornament for years to come! This Dollar tree DIY Christmas ornament is simple and looks the cutest! Do check out these cutes DIY 10+ Christmas Ornament crafts
Looking for more 25+Christmas Art and Craft activities? Check out my blog. I love the month of December as it has a special festive feeling. Christmas is the time of the year my students awaits as we have a blast at our Christmas party with these super thrilling Christmas Games!!!
Do not miss these super easy and cute Winter Craft ideas which are one of my favorites.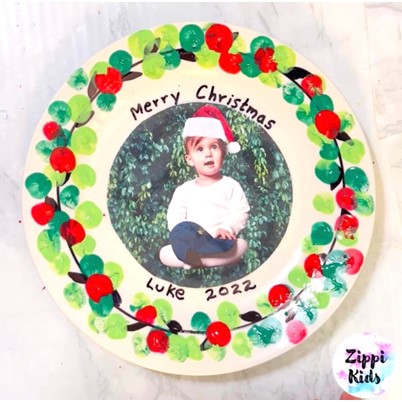 The time has come to exchange holiday gifts! This photo fingerprint wreath on a ceramic plate the ideal presents for students to produce for their parents? Gifts handcrafted by hand, of course! Gifts produced with affection and in consideration of a loved one warm the hearts of both the giver and the recipient. Your assistance will enable your pupils to create great presents that will be treasured family holiday decorations for many years to come. Do check out these exciting 10+ Christmas freebies from my store!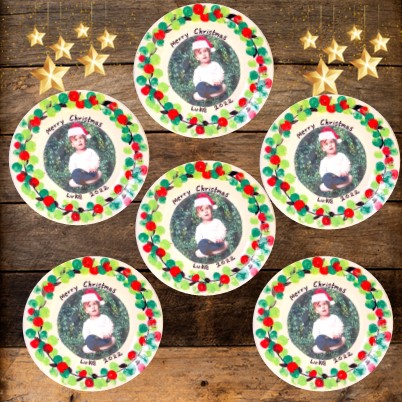 Supplies Needed:
Acrylic paints
Kids Photo
Glue
Scissors
Christmas themed Name Crafts are too cute to be missed! Also do not miss my Ginger breadman Literacy and Math Centers. Students will practice early math and literacy skills like number matching, sight word recognition, letter and sound matching, and so much more! Keep reading to check out each individual activity or grab all of them in a bundle Christmas Literacy and Math Centers for Preschool, pre-k and Kindergarten.

How to make this DIY Christmas Ornament Gift:
Get a ceramic plate, you can get it at dollar tree store( preferably white)
With the help of any circular bowl or object, draw a circle using sharpie marker.
Draw tiny leaves all over the circular border
Squeeze red, green paints in a plate
Dip finger in the green paint and start to dab it around the circular border
Post green paints, use red paint to randomly make dots all over the wreath
Once done with the wreath, let it dry overnight
Cut a kids round picture to be stuck in the center of the wreath
Using white school glue, paste the picture of the student
Write the students name, grade and year around the photo.
Lastly, Use Mod podge coating to seal the paints. It stays for years!

Tada!! You've created one of the most beautiful Christmas gift for the parents.
Check out the video here: