Fall Leaves Magic Name Practice Fine Motor Activity is a fun name recognition fall activity which works wonders with preschoolers and kindergartners. This magic name fine motor activity leaves the kids asking for more!
We saw earlier how you can blot paint onto a paper towel and it creates a reaction with unique coloring. This is taking it one step further and showing kids how different mediums give you different results by using markers, paper towels, and water to help you build up a crafty morning in your classroom
Leaves craft, Pumpkin crafts and Fall Tree crafts are the flavor of the season. If you are a teacher or parent of a toddler, preschooler or kindergartner looking for easy and fun art and craft ideas you have landed on the right page! This Fall Leaf Necklace Craft for kids is just the perfect art project for fall.
Free Fall Leaves Template is something you would definitely love to check out! Teachers grab your lesson planners and fill up each day with 25+ of the best fall crafts for your preschool and kindergarten-age kids!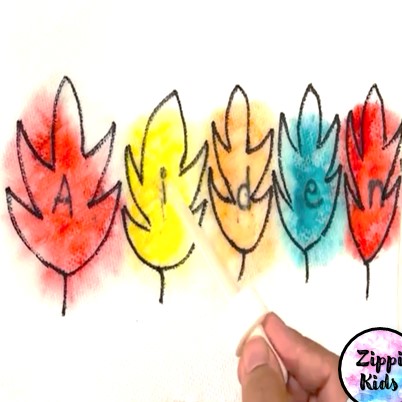 We have seen the many options available for fall craft projects with real leaves but what if you're in the middle of some rainy days or you're not in an area with a lot of leaves laying on the ground? Thankfully we have a great printable leaf template available so you and your kids can still enjoy great fall crafts without ever needing to step outside!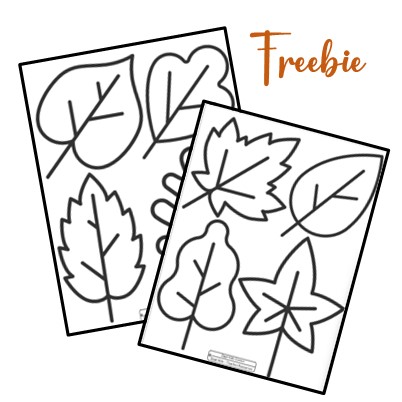 Check out my TPT Store for more fun fall resources. These fall leaves crafts can be easily executed using these free fall leaves template.
Supplies Required:
Paper towel
Paint
Sharpie
Fall-colored markers
Water
Pipette
Fall Leaves Magic Name Practice Fine Motor Activity- How to:
Take a paper towel and fold it over. Draw as many leaves as your child needs for each letter in their name with your black sharpie marker. On the underside of the paper towel put a letter under each leaf.
Using fall-colored markers color all around each letter with a different color. Put a small amount of water into a pipette and drip it onto each leaf revealing each letter and color that is underneath it. This helps kids practice so many skills at once, but since they are doing it as a fall craft project instead of a lesson they won't even realize how much they're learning!
Check out the detailed video of Fall Leaves Magic Name Practice Fine Motor Activity for kids: