This Fall Leaf Handprint Popsicle Sticks Name Puzzle project is a great hit with my preschoolers! This handprint fall craft not only helps kids practice their names but also makes a great keepsake to be sent home with kids!
This handprint fall craft presents an endless amount of opportunities for each season, but we are going to look at how it plays into the fall curriculum. Kids will work on many different skills as they put the sticks together, paint them, write out letters, and then have a puzzle to solve afterward. This is one of our favorite fall activities!
I bet you'll love Handprint Popsicle Names crafts for all Seasons!
Leaves craft, Pumpkin crafts and Fall Tree crafts are the flavor of the season. If you are a teacher or parent of a toddler, preschooler or kindergartner looking for easy and fun art and craft ideas you have landed on the right page! This Fall Leaf Necklace Craft for kids is just the perfect art project for fall.
Free Fall Leaves Template is something you would definitely love to check out! Teachers grab your lesson planners and fill up each day with 25+ of the best fall crafts for your preschool and kindergarten-age kids!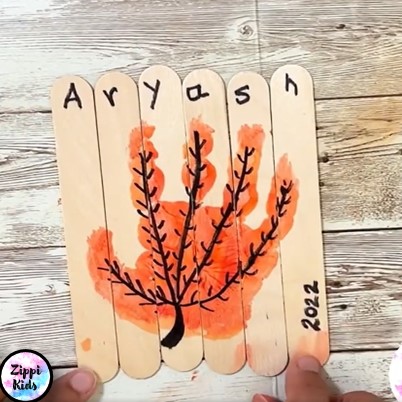 We have seen the many options available for fall craft projects with real leaves but what if you're in the middle of some rainy days or you're not in an area with a lot of leaves laying on the ground? Thankfully we have a great printable leaf template available so you and your kids can still enjoy great fall crafts without ever needing to step outside!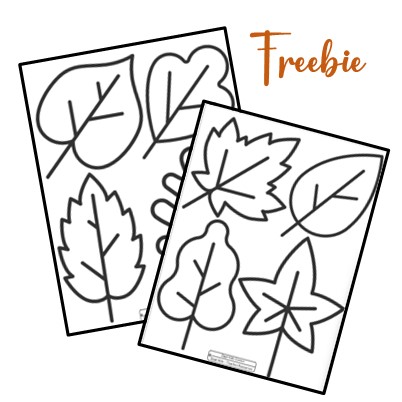 Check out my TPT Store for more fun fall resources. These fall leaves crafts can be easily executed using these free fall leaves template.
Supplies Required:
Sharpie
Craft sticks
Paint
Scotch tape
Fall Leaf Handprint Popsicle Sticks Name Puzzle- How to:
Take 6 large craft sticks and tape them together on the back with scotch tape all the way across. Put paint on your kid's hand and then place their hand on the front of the craft sticks to make a handprint that looks like a leaf. You can add fun details with a black sharpie such as the kid's name or a stem and lines to represent the veins of the leaf.
Write the year on the back of the keepsake for parents to hang onto. They will love seeing how small their child's hands used to be in preschool or kindergarten! Once all of the paint is dry you can remove the tape and it becomes a puzzle that they can keep. It's like two fall craft projects in one!
Check out the detailed video of Fall Leaf Handprint Popsicle Sticks Name Puzzle for kids: