Want to create lifelong memories with your kids this fall season? Check out these easy, 50+ Fun Fall Arts and Crafts for Kids, and get started today! Many of these craft activities use a blank tree template. You can find that template HERE.
Incorporate these super easy and hands on Fall tree art and crafts activities for October to promote sensory, fine motor, problem-solving, math, and literacy skills all while having fun in an engaging way! Check out my TPT store to grab your Free Fall Tree template! Do check out these 50+ Best Ideas for Fall crafts and activities. If you love these Fall tree craft activities, I bet you can't miss my 25+ Fall Leaf Art and Craft ideas and 10+ Turkey Craft Ideas for Thanksgiving.
When we talk about fall how can we miss Easy Printable Halloween games and 15+ Pumpkin Art and Craft Ideas. Also Take a look at the fun and easy Halloween science experiments, and Halloween Games to get your classroom into the Halloween spirit this fall. Also do not miss to have a look at my most popular Handprint Crafts templates for the whole year round! Want to learn about some of the best ideas for fun Halloween art and craft activities in the classroom? Do Like and Follow my Facebook Page for updates on such art and craft activities!
Continue reading to learn about a wide variety of engaging fall arts and crafts activities for the toddlers, preschoolers, and kindergarteners in your life this fall season.
Cling Wrap Fall Tree Art
Your little ones are going to LOVE this fall art! This process art activity is extremely low prep, using only a tree template (or make your own), some plastic cling wrap, and paint. For this project make or print the tree template and use yellow, red, and green paint to make some adorable leaves for your blank tree.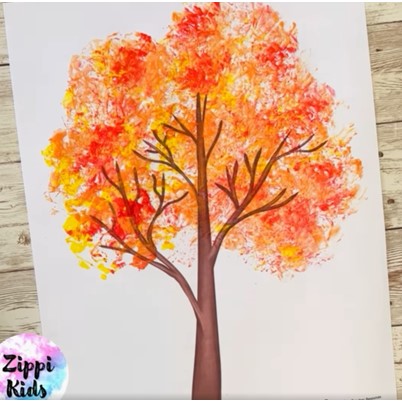 Fall Tree Potato Stamping
Check out this adorable Fall Art and Craft for Kids! Just grab a tree template (or make your own), some paint in fall colors, and a potato… Yep, a potato! Start by cutting the potato in half and then cutting leaf-like designs into the half-potato chunks. Next, dip the potato chunks into the paint and begin making "potato leaves" to complete your fall tree. This is the perfect process art for your preschool, kindergarten, and early elementary students this fall season!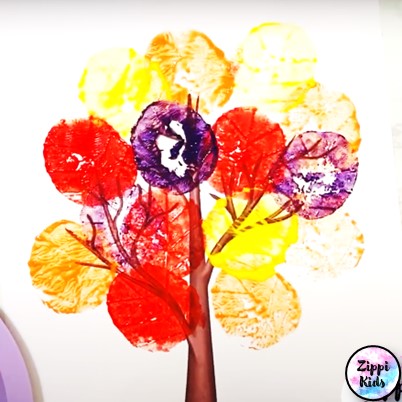 Straw Blow Painting – Fall Tree Art
Want a fun and engaging fall process art project your little ones will LOVE? Check out this super fun straw blow painting activity. You will need a canvas, paint, markers, water, a dropper, and a straw. Now sit back and enjoy the fun!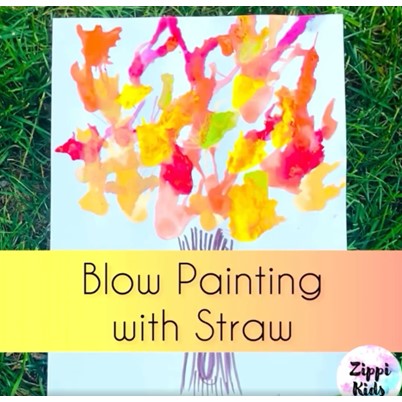 Fizzy Fall Tree Art
Teaching science to little ones just got so much more fun! This science and art-based activity promotes the scientific process, design, and creativity. Grab some paint (in fall colors), baking soda, vinegar, a dropper, and a blank tree template to use as a canvas.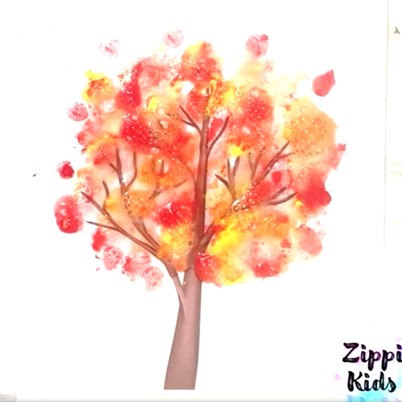 Pom-Pom Fall Tree Art
This process art activity promotes fine motor skills while giving your little ones control of the art process. This low-prep activity is done with just a few items: a canvas, paint (in fall colors), a clothespin, and pom-poms.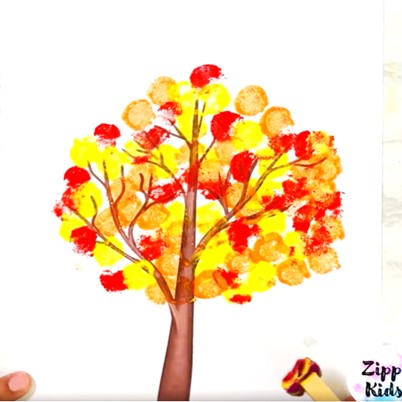 Fall Tree Foil Painting
Check out this fun fall arts and crafts idea for kids! This engaging painting project will get your kids excited about the fall season while learning about color mixing, practicing fine motor, and more. So, grab your tinfoil, paints, paper, and canvas to get started today!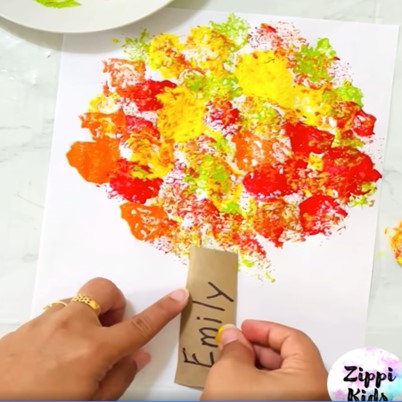 Fall Toilet Roll Stamping Art
Looking for an easy and fun fall tree art activity? We have created a preschool fall toilet roll stamping artactivity that your little ones will LOVE! All you need is paper or a canvas, paint (in fall colors), an empty toilet paper tube or two, and a marker.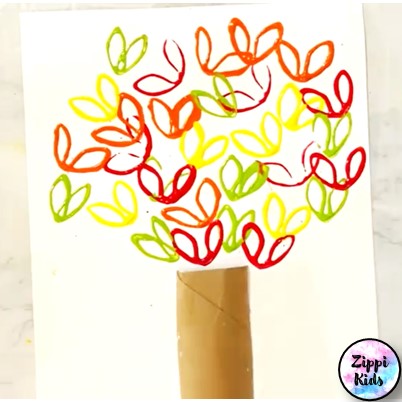 Fall Confetti Tree Craft
Fun fall craft ideas for kids. This craft features beautiful fall tree art that is fun and easy to make. Your kids will love making leaf confetti by punching holes in a variety of fun fall-colored paper or take it to the next level and hole punch leaves themselves! Then grab my blank tree template or design your own blank tree on the canvas of your choice.