Salt Fall Writing Tray Fine Motor Activity is a great way to support handwriting practice. Salt writing trays give kids an opportunity to practice handwriting skills without added pressure of a pencil grip. The Leaves Literacy task cards used in the activity are a part of my Fall Literacy bundle and are available in my store.
We have created this salt tray by using fall colors on the tray, but this is definitely an activity you could use any time during the year to work on literacy, letter and name recognition with your students. This project is a great activity to use during STEM block and to practice fine motor skill in the classroom.
Leaves craft, Pumpkin crafts and Fall Tree crafts are the flavor of the season. If you are a teacher or parent of a toddler, preschooler or kindergartner looking for easy and fun art and craft ideas you have landed on the right page! This Fall Leaf Necklace Craft for kids is just the perfect art project for fall.
Free Fall Leaves Template is something you would definitely love to check out! Teachers grab your lesson planners and fill up each day with 25+ of the best fall crafts for your preschool and kindergarten-age kids!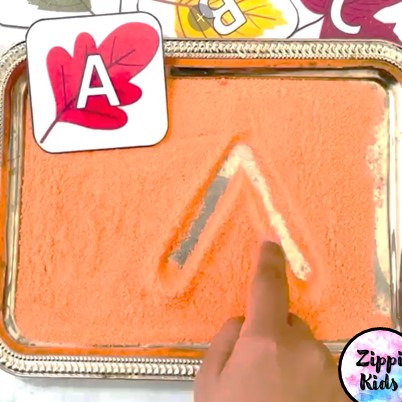 We have seen the many options available for fall craft projects with real leaves but what if you're in the middle of some rainy days or you're not in an area with a lot of leaves laying on the ground? Thankfully we have a great printable leaf template available so you and your kids can still enjoy great fall crafts without ever needing to step outside!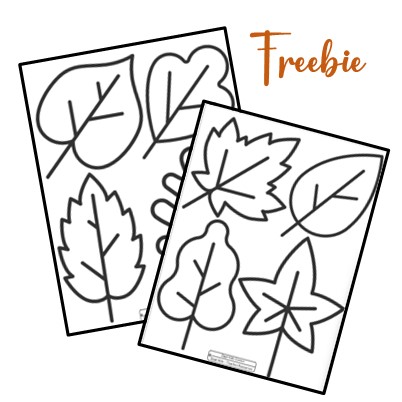 Check out my TPT Store for more fun fall resources. These fall leaves crafts can be easily executed using these free fall leaves template.
Supplies Required:
Salt
food coloring
Tray
Ziplock bag


Salt Fall Writing Tray Handwriting Practice- How to:
Making a salt tray is super easy! Take salt as per the size of the tray. The salt shoudl be enough to spread out across the tray. Put the salt in a ziplock bag, add food coloring, in this case I used orange color. Zip the bag up and start smooshing the salt to mix the food coloring well with the salt.
Once all the color has evenly coated the salt, pour the colored salt in a tray to dry up. It may take a few hours for it to dry and get ready for our handwriting salt tray activity.
Check out the detailed video of Salt Fall Writing Tray Handwriting Practice for kids: