Feed The Jack-O-Lantern Sensory color mixing bags make the perfect October fine motor activity! Feed The Jack-O-Lantern Sensory Bags are easy to create and fun for everyone. All you need is hair gel, food coloring, pumpkin seeds, a black sharpie, and a ziplock bag.These pumpkin sensory bags promote color mixing, fine motor skills, problem-solving, counting, and so much more! Your students are going to LOVE this awesome October activity.
Looking for some more engaging pumpkin hands-on arts and crafts activities for your preschoolers this fall? This sensory bag activities provides students with fun fine motor opportunities. Your students are sure to love getting their hands messy and creating this fall pumpkin art! You would also love to check out these more amazing 15+ Pumpkin Crafts and 25+ Fall Leaves crafts for your kids. I've also got you covered with these super fun 25+ Halloween Crafts and Activities.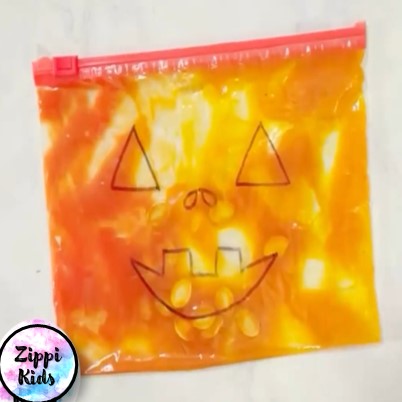 Place a small amount of hair gel into the ziplock bag along with a few drops of food coloring (red, yellow, orange, green) and a few pumpkin seeds (for preschool I like to add 10 seeds) then seal the ziplock bag. To ensure a good seal, you may want to tape the bag closed. Next, grab your sharpie and design a pumpkin face on the front of the ziplock bag. The final step is to let your student start mixing away by pushing the colors around. As your students mix up the colors, they can "feed" the jack-o-lantern by moving the seeds into the pumpkin's mouth.
Check out the video here: