How Mr. Grinch Stole Christmas You can't celebrate Christmas without watching the timeless film which are classics! Did you check out these adorable 30+ Christmas Craft ideas for preschoolers and kindergartener??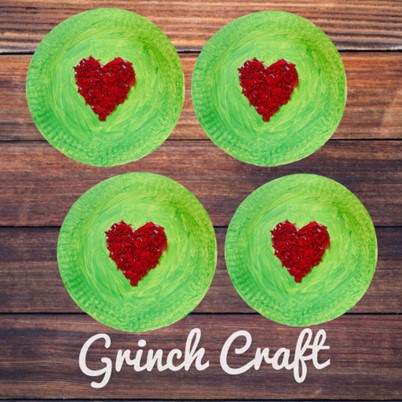 Because we adore the classic version the most, we decided to design a simple and fun Grinch craft for children using paper plates. It's a simple Christmas craft that kids of all ages will enjoy making.
Continue reading below or watch our instructional video to learn how you and your students can make this fun craft together. Here is a fun and easy Grinch paper plate craft that kids can make to celebrate the Christmas season. This is a super simple Grinch heart craft for toddlers, preschool and kindergarten students. Easy to setup and clean up too!
Supplies Needed:
paper plate
green Acrylic paint
red tissue paper
contact paper
scissor
Directions:
Start by folding the paper plate into half and cut a heart right in the center.
Next paint the paper plate green. You can use acrylic paint or tempura paint, and you can use a brush or your fingers to apply the paint to the plate. Set the painted plate aside to dry.
Once the paint on the paper plate is dry, Cut the contact paper of the size of the heart and paste it on the paper plate( sticky side up).
Take red tissue paper and start to tear it into small pieces
Roll tiny balls out of those pieces using fingers
Start sticking the crushed tissue paper pieces on the contact paper in the shape of the heart!
Fill it completely so no blank spaces are visible.
That's it!
Check out this video for directions:
Your Grinch paper plate craft is now complete! You can display it on a mantel or shelf as part of your Christmas decorations, or you can use it as a fun and festive activity for a Christmas party or classroom celebration. Happy crafting!