In order to keep our mouths clean, brushing our teeth is crucial. When we brush our teeth, we remove all the debris and germs we don't want, ensuring that our teeth remain sparkling and clear. Professionals advise children (and adults) to brush their teeth twice a day for two minutes each time, using toothpaste and a toothbrush, moving up and down in circular motions, and not forgetting the back teeth! It can be difficult to get young children excited about brushing their teeth, but we have a fun activity and some suggestions to encourage them and help them get rid of the germs. Check out more such fun and easy Teeth Brushing activities for kids. Grab the free printable teeth template from below.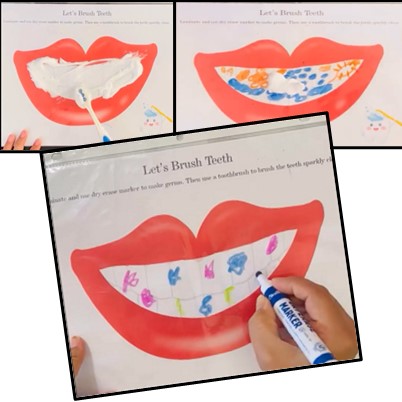 This easy teeth brushing sensory activity with free printable is a great way to teach kids about how to clean their teeth properly. This dental activity can be messy but is a great sensory experience for toddlers, preschoolers and kindergarteners! It becomes super easy with the help of my free teeth printable printable.
Supplies Needed:
Clear Sheet or Laminator
Dry Erase markers
Shaving cream
Old Tooth Brush
Kitchen towel
Do check out this fun Happy Tooth Sad tooth Food Sorting activity for preschoolers.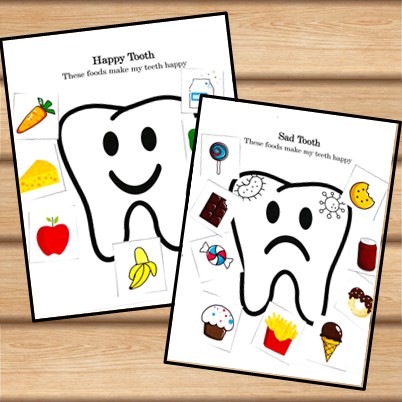 Do check this out at my TPT store
Directions:
Grab the free printable teeth template from my store
Print it and insert it in a clear sheet
Alternatively you can laminate the teeth template
Tape the sheet on the table from all side so that it doesn't move
Using dry erase markers, draw random germs and bacteria on the teeth using different colors
Spary a dab of foamy shaving cream on the teeth template( to look like toothpaste)
Next, using a toothbrush or a kitchen towel kids would start to erase the germs
That's it.. It's so much fun!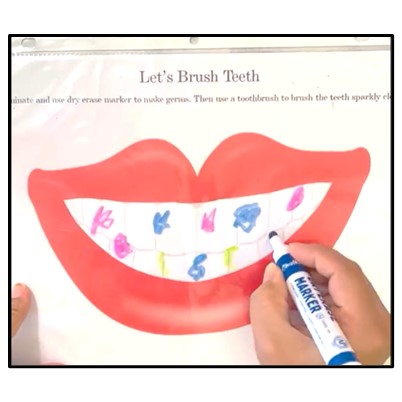 Download the teeth template here
Following the activity, we discussed dental hygiene practices and introduced fresh ideas like gums and tooth roots. With this activity, we supported the development of many skills, including language development, concept development, and hand-eye coordination. One of the daily life skills we learned was how to maintain oneself. These basic supplies that you already have at home can also be used to create this activity. Enjoy the teeth-brushing activity?
Check out the video here: