The best way to work on letter identification is through an assortment of exciting alphabet and letter activities. Add some alphabet games to make learning fun and be sure to switch things up a little to keep kids on their toes. Try some of the 10 alphabet and letter activities below to get kids excited about learning their 26 letters. There's a little of something for everyone!
Fun Alphabet Craft Letters Aa-Zz
As kids learn the letters of the alphabet, it's always fun to use activities that let them practice fine motor skills. These capital and lowercase letter crafts are a great way to decorate your classroom walls and to reinforce each of the 26 letters and the letter sounds. Add this to your lessons as a fun way to remember each letter. When they are all complete, kids will have a booklet of 52 letters to look back on.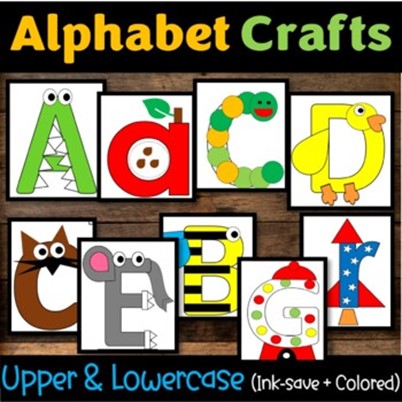 Alphabet Handprint Craft
Incorporate each child's handprint while they learn upper and lowercase letters. These handprint letter activities are a super fun way to do hands-on crafts in preschool and kindergarten and to practice letter names. Parents and guardians will love having these as keepsakes for years to come.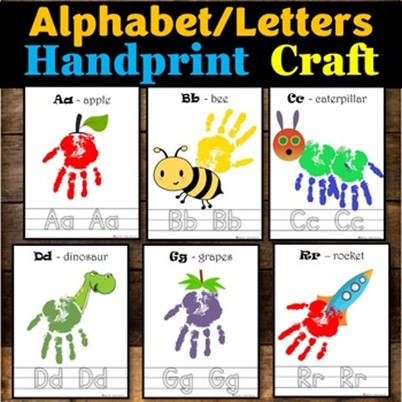 Alphabet Phonics Sounds Coloring Craft
Anchor charts are fun when displayed in literacy centers or around the room. Let kids make their own Alphabet coloring crafts and turn them into posters to refer to throughout the year. Each alphabet letter has images of words that start with that letter so kids get a fun visual. Turn them into a booklet if you don't want them up on the walls.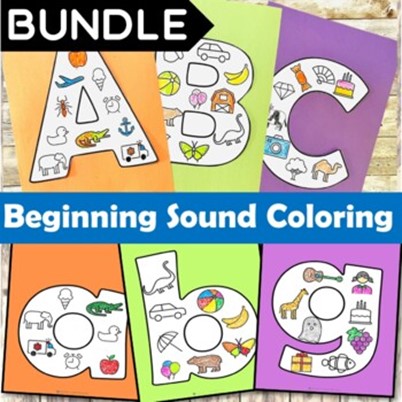 Letter Playdough Mats
Before writing letters on their own, students need to learn how to form each letter. A little bit of playdough or clay does the job! Use these engaging letter playdough mats to practice letter formation with both capital and lowercase letters. Each mat also displays pictures of objects that start with the letter for extra exposure.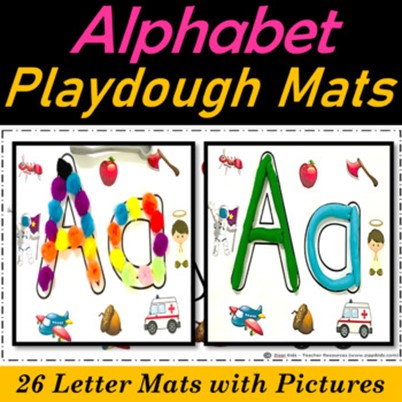 Digital Alphabet Recognition and Formation
Google Slides are all the rage, and kids LOVE using technology in the classroom. Let your preschool and kindergarten students work on alphabet formation using interactive digital slides. The slides work with fun images corresponding to each letter and show the students which direction to form each letter.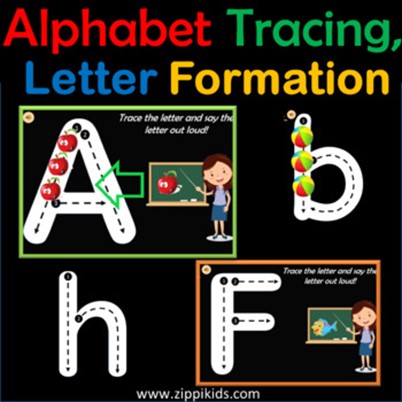 Fly Swatter Review Game Alphabet & Letter Recognition Game for Preschool and Kindergarten
Use this printable activity to work on phonics and beginning sounds. Kindergarten and preschool students will love using a fly swatter to swat the letters they hear in words. Use these cards in different ways to work on uppercase letters, lowercase letters, letter identification, CVC words, and tons more. Attach a magnet to the cards to make them magnetic letters that stick to your board. Kids will love these hands-on activities.
Alphabet Hats/Crowns and Letter of the Week Craft
This craft is perfect for a letter of the week and beginning sounds to practice. Kids make their own adorable crowns or hats to wear proudly after learning about the letter. Add this early learning activity to your lesson plans and get kids excited to learn about a new letter each week.
Alphabet Crafts and Letter Beginning Sound Necklace
Work on letter recognition by making these hands-on necklaces. Kids will color the capital letters and lowercase letters as well as 4 objects that start with each letter. Attach them to a string to work on fine motor skills, and kids will be masters at phonemic awareness in no time. This is such a fun activity to use in literacy centers with young children.
Gross Motor Alphabet Mats
These letter mats are perfect for homeschooling, preschool, and kindergarten classrooms. They are fun hands-on ways to practice letter knowledge and identification while working on big muscles. Young learners will enjoy using these letter recognition activities outside or during indoor recess times. While teaching letters, use this game to get kids up and moving. They will have so much fun hopping from letter to letter.
Alphabet Letter Mazes
Grab these no-prep activities to practice each letter of the alphabet with your students. Little hands will use hand-eye coordination to dot the letters of the alphabet on each maze. Use paint daubers or dot stickers to cover the spots. Add this alphabet activity to your literacy centers in preschool or kindergarten. Practice letter recognition the fun way!
Summary
Using a combination of these fun alphabet activities will teach your early learners to understand phonics in no time. Work on letter recognition skills from day one and incorporate these printable activities in your classroom. They will easily become your students favorite activities to work on throughout the school year. Have fun!!