Leaves craft, Pumpkin crafts and Fall Tree crafts are the flavor of the season. If you are a teacher or parent of a toddler, preschooler or kindergartner looking for easy and fun art and craft ideas you have landed on the right page! This Silhouette Fall Leaf Fingerprint Art for preschoolers is just the perfect art project for fall.
Free Fall Leaves Template is something you would definitely love to check out! Teachers grab your lesson planners and fill up each day with 25+ of the best fall crafts for your preschool and kindergarten-age kids!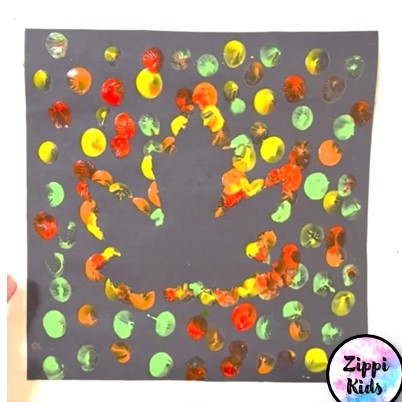 Kids will love dipping their fingers into the different paints (helloooo tactile learning - try to let the mess happen!) to create this simple leaf silhouette piece of art! This is an easy way to help your kids work on their hand-eye coordination. They can also explore mixing different colors and seeing what unique combinations they can create. The silhouette fall leaf fingerprint art is also a super fun project for special needs students - meet them where they're at and help as much as you can!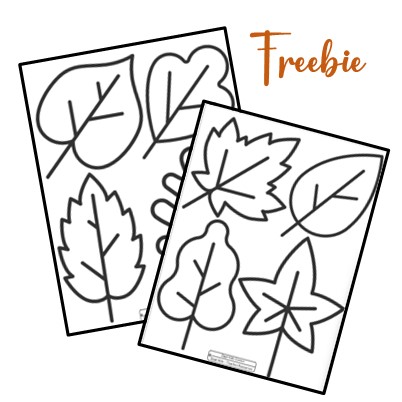 Check out my TPT Store for more fun fall resources. These fall leaves crafts can be easily executed using these free fall leaves template.

Supplies Required:
Piece of paper
One of your leaves collected at your nature walk
Paint in your choice of fall colors
Scotch tape
Silhouette Leaf Art : Process

Find one of the largest leaves from your walk and secure it onto a piece of paper with some scotch tape. We chose a dark piece of paper for this one, but you could use a lighter one as well. This is the perfect time to bring up seasonal time changes during the fall!
Put some small drops of your fall-colored paints along the edge of a plate. The next step will be a kid's favorite as they get to stick their fingers in each color of the paint and put fingerprints all along the edges of their leaf. Start by having them go all the way around the leaf to make a sort of stencil and then proceed to leave their little fingerprints all around the open area of the paper. Be sure to encourage them to use a variety of colors as this will make the art project really stand out! You then pull the leaf off and remove the scotch tape from the paper. These would make great pictures to hang around your classroom during the fall season, or awesome take-home gifts for family!
This fall art is would make a great small group and early finisher activities. They would also be the perfect opportunity to bring in some older kids and have them help with the small groups by making sure supplies are ready and used properly.