Maze in a bag is a super fun fine motor activity for kids. Pre-writing activities for toddlers and preschoolers not only help young learners learn strengthen their fine motor skills but they also encourage hand eye coordination. This maze in a bag fine motor activity is a great exercise for those tiny little which encourages fine muscle development and coordination, and also helps kids process sensory information required in the writing process. Here is a super fun Pre-Writing Activity and Fine Motor activity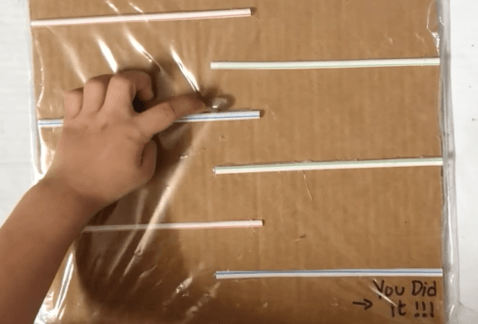 Be sure to check out my 20 Super Fun Process Art For Kids which is a great way to explore and promote creativity in kids in any season. Fine motor skills can also be promoted with fun outdoor activities in summer with fun, active and educational sidewalk chalk activities.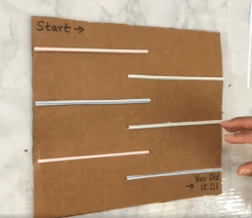 This maze in a bag helps preschoolers to develop the skills needed for legible handwriting and higher level visual perceptual skills. Thisfine motor sensory bag also helps students to work on early writing skills before they ever pick up a pencil. Also check out these Indoor gross motor activities for kids.

This fine motor activity is super east to make and can be used for a long time for morning work or early finishers in classroom setting. You can create pre-writing lines, shapes, letters, numbers, or even mazes. The kids need to use their tiny fingers to push the marble through the maze to reach the end point.
Materials Required to set up
Cardboard
Straws
Scissors
Hot glue gun
Ziplock bag (Gallon sized)
Marble
Permanent marker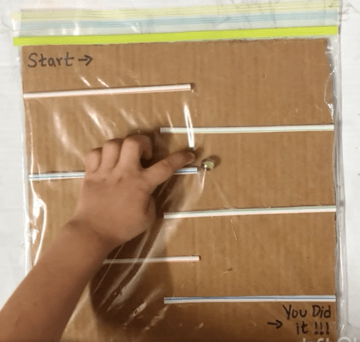 Step by Step Directions

Cut the straws into half breadthwise
Using a hot glue gun stick the half cut straws in for of a maze
Mark the starting and the end point using permanent marker
Insert the cardboard into a ziplock bag ( gallon sized)
Drop a marble in the beginning of the maze.
I have a collection of 100+ Fine and Gross Motor activities for toddlers Please check all the parts here: