One of the most stunning crafts I've ever created is Silhouette Portrait crafts for Preschool and Kindergarten, which is also unexpectedly one of the simplest. I've always adored portraits in silhouette, they look amazingly beautiful for some reason!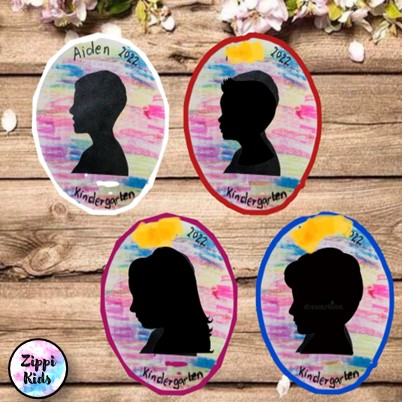 A kid will have mastered the fine motor skills necessary to use scissors effectively as they advance from kindergarten to first grade. One such skill is cutting using a silhouette. Even though it is largely a lost skill, your preschooler can learn it with a few simple tools and little parental guidance. Even for adults, the procedure is enjoyable, and the outcomes are consistently stunning.
If you want to complete this project correctly the first time, you should first read the entire post.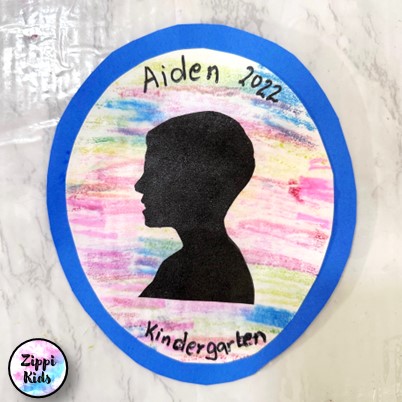 Supplies Needed
Cardstock paper
Colored Construction paper
Child's Side Photo( Silhouette)
Washable markers
Parchment paper/wax paper
A pencil
Glue stick
Scissors
First things first, before starting this Silhouette Portrait project with the little ones, you need to keep the silhouette cut outs ready in hand, for them to use in the craft! I have seen so many ways to create silhouette which are so time consuming and complex, hence, I had to find and simple and easy way to make silhouette portraits of my students without investing a lot of time! So, here I am with this easiest way to create Silhouette Portrait using PowerPoint Presentation( PPT)
Step 1: Click a Side Profile Picture
Start by using a digital camera or your phone to capture your child's profile picture. This will serve as a model for the finished artwork. Have your toddler face sideways in front of a simple wall for the best results. The background should be as basic as possible. Even a bedsheet can be used to cover a door to provide a plain background. Avoiding cluttered backdrops that can mislead the child when they begin cutting is the goal.


Step 2: Upload the picture in your computer
Next step is to upload the child's picture on your computer and make a silhouette using PPT. Check out How to make Silhouette Portraits using Power Point presentation in simple and quick steps.
Step 3: Cut out the silhouette
Trim away any extra paper that surrounds the photo. Try to be as precise as possible especially with the lips, nose and eyes, which are too tiny to cut. Don't worry about cutting too close .
Step 4: Prepare the base
Take a cardstock paper and draw an oval shape in accordance to the size of your silhouette portrait. The Oval should atleast be 1-2 inches bigger than the silhouette you cut out.
Step 5: Coloring the Base
Now this is the most interesting part, where you just don't color directly on the cardstock paper. Instead, I used a parchment paper( You can also use a tin foil, wax paper, Cling foil or a simple zip lock bag to get the same background effect). Tape the parchment paper from all sides so that it doesn't move. Using washable marker, let kids make random colorful pattern on it.
The beauty is that every child will create such an unique and amazing design. Once, done, using a damp tissue paper or use a spray bottle to sprinkle water on the oval base you made. Immediately after this, put the oval facing down onto the parchment paper. press it evenly so the designs imprints on all the sides. Remove it and you would see the same pattern imprinted on the oval base.
To soften it more use a damp kitchen towel and rub it across the pattern, smudge it to mix the colors well.
Step 6: Stick the Silhouette
Once, you reach are done with the base, grab the cut out silhouette and using a glue stick paste it in the center of the oval base.
Step 7: Seal it with Contact paper
Once, your Silhouette craft is ready, cut a clear contact paper and stick it facing down on the craft to secure the entire project. Cut off the extra edges to level it up with the oval base. Alternatively you can laminate the entire project and cut it out! That's it, your beautiful Silhouette craft for preschool and kindergarten is ready to display!
Check the below video for instructions:-