This Handprint Shamrock Wreath St. Patrick's Day Craft Fine Motor Activity for St. Patrick's Day is super fun. This fingerprint and handprint Shamrock craft is perfect keepsake for St. Patrick's Day and is an amazing way to keep students gasping and engaged! Handprint Shamrock and fingerprint Wreath craft is a great keepsake which parents would love. fun. Do not miss to check out these super cute St. Patrick's Day Literacy and Math Centers.
March is the perfect time to celebrate spring, sunshine, and St. Patrick's day! If you are a preschool, kindergarten, or primary school teacher, I know you are looking for some easy craft ideas for kids. Look no further! We have compiled a list of many craft activities for St. Patrick's Day that kids will love. The best part of these craft activities? Check these 30+ St. Patrick's day Art and Crafts projects for your little ones.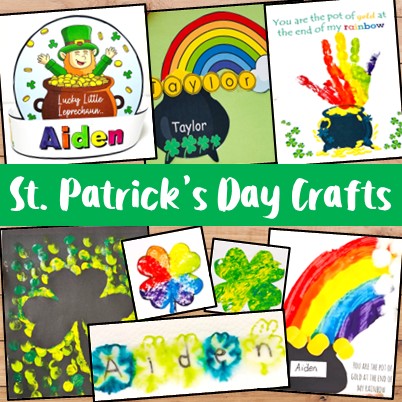 A March craft for kids with a handprint of a shamrock. I've loved making St. Patrick's crafts with my preschool and kindergarten kids and hanging them in our classroom. I always use their hands or feet to make their art, which is why I get so many compliments on it.

Handprint Shamrock Wreath St. Patrick's Day Craft
Use this shamrock handprint and fingerprint wreath art idea to make shamrock handprint keepsake art crafts with toddlers, preschoolers, kindergarteners, and school-aged kids for Saint Patrick's Day. Shamrock handprint art makes a great gift idea for friends and family on St. Patrick's Day!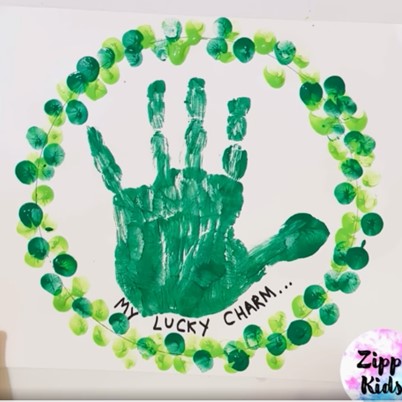 This Shamrock handprint idea along with fingerprint wreath is super cute for St. Patrick's Day. Have the kids put their handprints down on a canvas for a forever keepsake to remember their little hands. You can make this unique Shamrock/Clover handprint crafts along with fingerprint wreath for St. Patrick's Day at home or in the classroom.
You need:
● Green Acrylic paint
● A Sharpie or permanent Marker
● Dry Erase markers
To make:
● Grab a cardstock paper
● Using a round circular object make a circle
● Dab green paint onto the hand on the student and print it in the middle of the circle.
● Take paint on fingers and start to put all over the circular boundary to make it look like wreath

Crafts that use handprints make great gifts for mom, dad, or grandparents. Make this St. Patrick's Day handprint and fingerprint craft to give to your parents or someone you care about.

Check this video for more detailed instructions: