Pumpkin Handprint Name Puzzles promote name and letter recognition, creativity, and problem-solving skills. These puzzles are simple to make with only a few household items. All you need is paint, a marker, and craft sticks.
Looking for some more engaging pumpkin hands-on arts and crafts activities for your preschoolers this fall? Here is a list of 15+ free and easy pumpkin themed fall sensory art activities that provide students with fun fine motor opportunities. Your students are sure to love getting their hands messy and creating this fall! You would also love to check out these more amazing 15+ Pumpkin Crafts ideas which you can all over fall season. Fall cannot be imagined without these 25+ Fall Leaves crafts for your kids.
Next in line is Halloween which is one of the most fun times of the year. I've got you covered with these super fun 25+ Halloween Crafts and Activities for your kids. Do Check out my TPT Store for hands-on and engaging fall centers and games for your classroom or home school setting.

Are you looking for the perfect fall keepsake? Our Pumpkin Handprint Name puzzle is just the thing you want! These Pumpkin Handprint Puzzle is not only perfect to be the perfect gift to send home to families during the fall season but also a great name recognition activity for early learners. It is super easy and simple to make. This pumpkin handprint name puzzle craft is the perfect name-recognition and problem-solving activity for preschool and kindergarten students. Grab some popsicle/craft sticks, tape, paint, markers, and a picture of your student to get started today!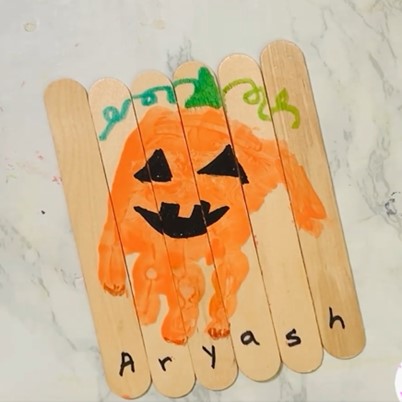 Supplies Required

popsicle sticks
paint
marker
tape
Line up the craft sticks (number depends on how many letters in your student's name) and paint your student's hand with orange paint. Press their hand onto the craft sticks to create a "pumpkin shape." Then, using the marker, write your student's name at the bottom of the craft sticks – remember one letter per stick! Finish off the activity by drawing a jack-o-lantern face, stem, and vines.

Check out the video here: