Summer is finally here, Sun is shining bright! Try this amazing Watermelon handprint popsicle sticks name puzzle for your summer school. Watermelon handprint art project is a great way to kick off summer .This is a great Summer art project for kids.
Watermelon is a great fruit for summer. Kids as well as grown ups love it. This watermelon popsicle handprint name puzzle is a great way of practicing Name recognition during the summer break.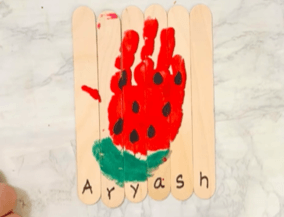 Kids love to do handprint art. Do check out these cute 10 Handprint art and craft ideas. This watermelon craft for summers is super fun and easy art activity for preschoolers and kindergartners. Also check out these fun Summer art & Craft projects for kids.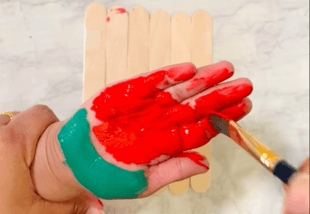 Handprint craft are a great keepsake for parents too. This name craft helps kids practice their name formation and recognition over the summer break. THis watermelon craft can be a great addition to your summer kid which can be sent at home of students. Summer outdoor crafts and activities are a great way to explore the surroundings.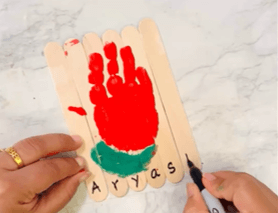 Be sure to check out my 20 Super Fun Process Art For Kids which is a great way to explore and promote creativity in kids.
Let's begin on how to create this beautiful watermelon craft for summer art project with kids.
Materials Required to set up
Red, Green and Black Acrylic paints
Popsicle sticks( I used big ones)
Adhesive tape
Q-tips
Black permanent marker (Sharpie)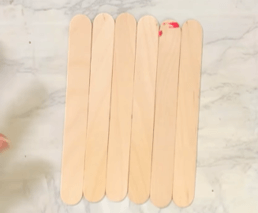 Step by Step Directions
Take as many popsicle sticks as the number of letters in child's name
Stick the popsicle sticks using adhesive tape
Apply paint on the hand of the child using paint brush
Press the palm against the popsicle sticks
Using Q-tip make dots on the red part of the watermelon
Write the name of the kid at the bottom using a sharpie
Once dried, remove the adhesive
Enjoy the name puzzle!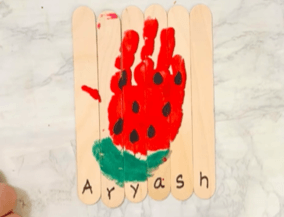 I am sure that kids will love this watermelon name puzzle craft as it can make a great hands-on summer art project. Also do check out my Fall art project, Summer art project, 4th of July , Spring Art projects for preschoolers and kindergartens which are super simple and easy.