This Leaf-in-A-Box-Fall Leaf Marbling Art project creates a super fun and easy fall project. Many kids struggle with just sitting down and drawing or painting. This leaf-in-a-box craft gives kids the chance to complete an fall art project while shaking out their wiggles! This is a great idea to get kids involved even when art might not be their favorite thing.
Leaves craft, Pumpkin crafts and Fall Tree crafts are the flavor of the season. If you are a teacher or parent of a toddler, preschooler or kindergartner looking for easy and fun art and craft ideas you have landed on the right page! This Fall Leaf Necklace Craft for kids is just the perfect art project for fall.
Free Fall Leaves Template is something you would definitely love to check out! Teachers grab your lesson planners and fill up each day with 25+ of the best fall crafts for your preschool and kindergarten-age kids!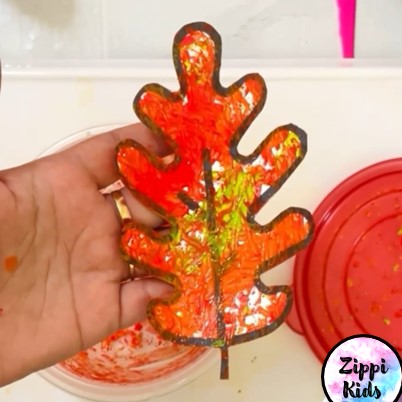 We have seen the many options available for fall craft projects with real leaves but what if you're in the middle of some rainy days or you're not in an area with a lot of leaves laying on the ground? Thankfully we have a great printable leaf template available so you and your kids can still enjoy great fall crafts without ever needing to step outside!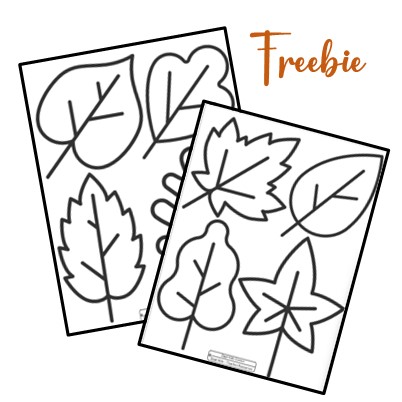 Check out my TPT Store for more fun fall resources. These fall leaves crafts can be easily executed using these free fall leaves template.
Supplies Required:
Leaf cut-out
Scissors
Acorns
Paint
Plastic container with lid
Leaf-in-A-Box-Fall Leaf Marbling- How to:
Using the leaf template cut out as many different styles of leaves as you have children completing this fall art project. Place each paper leaf into a small container with 3-4 acorns. Put a few drops of paint in different colors onto your paper leaf and place the lid on the container.
Now comes the fun part for your kids, have them shake the container so that the acorns are able to move all around and "paint" the leaf. This would be a great activity for either preschool or kindergarten classrooms where you need a brain break or something to get them moving for a bit!
Check out the detailed video of Leaf-in-A-Box-Fall Leaf Marbling for kids: