Handprint Art and Craft Projects perfect for toddlers and preschoolers because they can be done with little or no fuss. These handprint crafts offer fine motor skill practice, sensory input, hand-eye coordination, promote creativity, and so much more! In this post, you'll find instructions on how to make easy handprint crafts that kids love for all occasions around the year! Kids Handprint Art Projects & Crafts for All Seasons.
My Kids love making handprint art. It's so much fun dipping hands in paint and creating your own work of art so unique!
The first day of school handprint certificate is an adorable keepsake to remember this momentous occasion; but what do you do? We have the answer! These first day of school handprint art pages give students a fun way to share a bit about them and their first day of school with their families. It also gives families a sense of relief and comfort knowing their student's teacher wants to make the connection between school and home a positive one!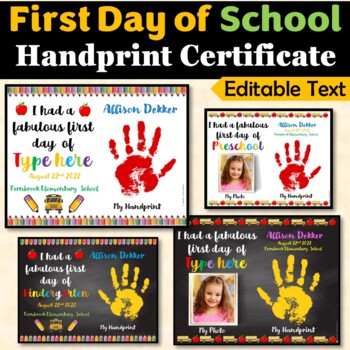 Make First Day of School Memorable with these cute Handprint template with poem for Preschool, Pre-k, These handprints would be a perfect gift to be sent home for parents. They would simply love this personalized keepsake. This handprint pack has 2 cute handprint art templates! This keepsake art is super easy and simple to make. Just print and add your students handprint on the templates and Laminate!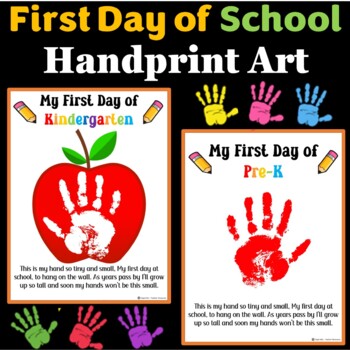 Are you an educator starting a new school year? How about learning about caterpillars and butterflies in a themed unit? Incorporate this adorable grade and year caterpillars into your first day, first week, or themed-unit activities. These handprint pages would make the perfect keepsake for parents. They would simply LOVE it!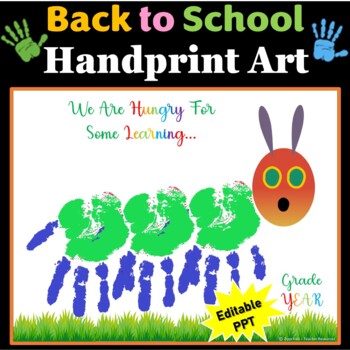 Are you looking for the perfect fall keepsake craft? Our fall handprint art pages would make the perfect gift to send home to families during the fall season. It is super easy and simple to make. Simply print the template of your choosing, grab some paint and use those little hands to complete the adorable templates. Create a pumpkin, acorn, tree, and more handprints with these adorable templates!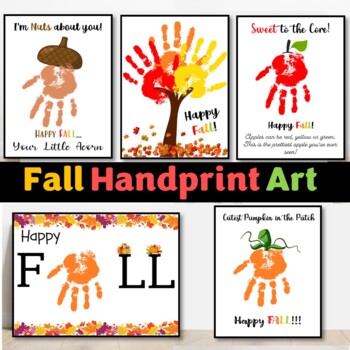 Spooky season is upon us and these Halloween Handprint activity pages give your students an opportunity to be creative while also creating positive hand-eye coordination and fine motor skills. There are eight adorably spooky designs for your students to choose from. Check them out now!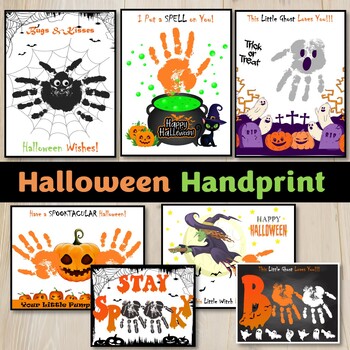 Adorable Thanksgiving Handprint Art Keepsakes for young learners. These are a great way to begin the month of November and the discussion of the Thanksgiving holiday. Students can make keepsake placemats for the big meal. Simply print (we recommend on cardstock for durability) the template pages, give students some paint and paint their handprints onto the page. Finally, (when dry) laminate the completed pages for extra durability and easy wipe down! Your students' families are sure to love them and use them again, and again!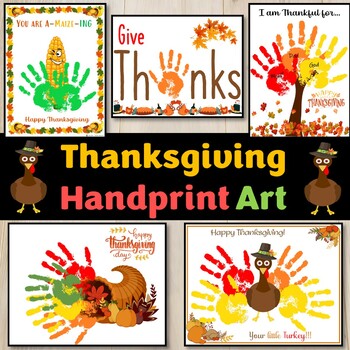 With six adorable designs, our Christmas Handprint Art Activities will wow your students this holiday season! Our designs feature all the Christmas classics and more! Templates include Santa, Rudolph, and a Christmas tree. Simply print (we prefer to print on cardstock for durability) the page(s) you'd like your students to create, grab some paint, and get started!


Make this Handprint Alphabet Craft with your little learners to introduce the letters of the alphabet and their beginning sounds! Hang these adorable alphabet pages in your classroom, bind them into a class book, or send a bound book home for students to practice letter and sound recognition. Your students will absolutely love creating these adorable letter handprint pictures while taking pride in their work!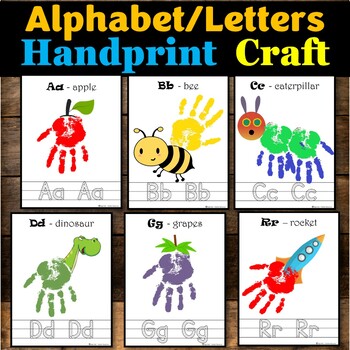 Your Valentine's Day just got a whole lot sweeter! These adorable Valentine's Day Handprint Art Printables are the perfect way to show your love. Students can easily complete these loving printable pages at school, then send them home to families as adorable keepsakes. With six designs, there is sure to be something for everyone!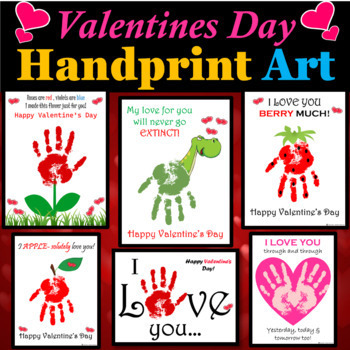 March is reading month and it features Read Across America Day! This day was created to remember and celebrate the life of Theodore Geisel, aka Dr. Seuss. Celebrate his life, stories, and creativity with these three adorable handprint art designs. In these designs, students will create three of the main characters from Seuss's best-selling book "The Cat In The Hat."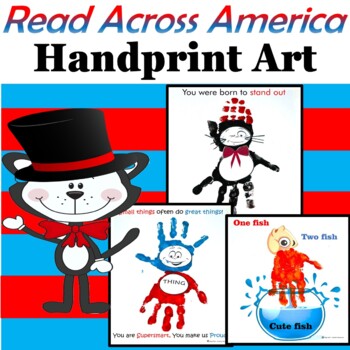 St. Patrick's Day Handprint Keepsake
Want your students to have the luck of the Irish this March? Check out these adorable St. Patrick's Day Handprint Art Activity Pages today! Fun for preschool, elementary, and homeschool students, our handprint art pages make the perfect holiday keepsake. With an easy-to-use design and fun graphics, your students and their families are sure to LOVE them!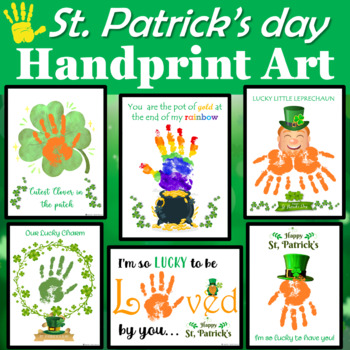 When Spring is just around the corner, and we have the cutest activity for you and your students! Caterpillar Handprint Art gives students a sense of ownership while designing, painting, and explaining the caterpillar life cycle. Use this design with young learners (preschool and kindergarten) after reading the story "The Very Hungry Caterpillar" by Eric Carle. Take this art activity a step further when you teach your students about the life cycle a caterpillar goes through!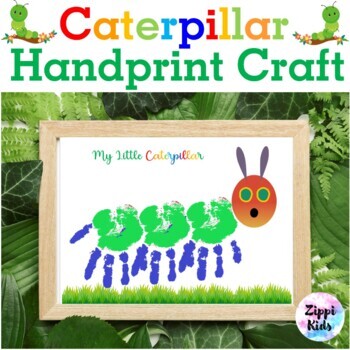 Eight adorable spring handprint art activities to engage young learners! Promote creativity, hand-eye coordination, and design elements with these handprint painting activities. These printable pages would be the cutest spring keepsakes for families or use them in your next bulletin board design.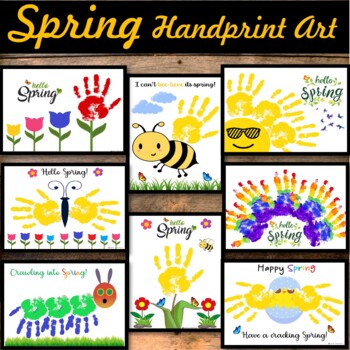 Easter Handprint Art Designs make wonderful placemats, art decor, or cards for your Easter celebrations. There are seven adorable designs for students to choose from featuring bunnies, eggs, chicks, carrots, and more! These low prep handprint art pages promote fine motor and hand-eye coordination, creativity, and color discrimination for young learners.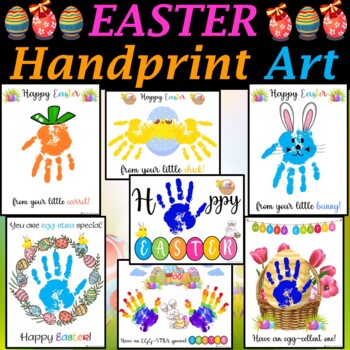 Looking for the perfect Mother's Day project for your classroom? Look no further! We have 17 adorable designs perfect for any mom in your life! Simply print and paint! These cute handprint art pages can be used as cards, placemats, art activities, and more! Let your imagination go wild when decided how to use these pages!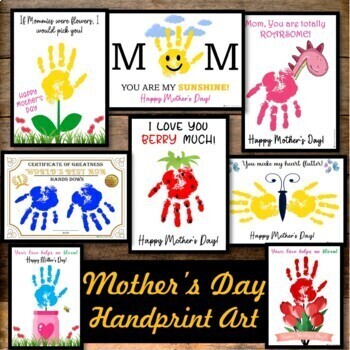 Are the little ones in your life graduating preschool or kindergarten soon? If so, this handprint art would be the best keepsake for families! Simply print, paint your little's hand(s), and add their name and year to create the most adorable designs! Hang on to these completed pages until your little one graduates high school to see the difference in hand size, name writing, and more! Heck, these handprint art activities would even be adorable for your High School Graduates —if you can get them to do it!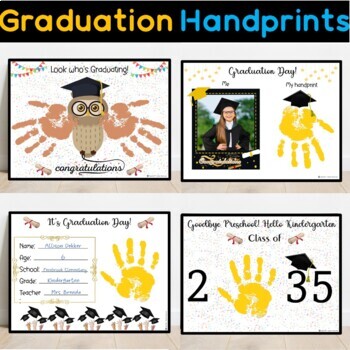 An absolutely adorable handprint certificate printable featuring your child's photo, handprint, name, and date! This certificate is great for preschool, kindergarten, first, and second-grade students! This template is fully editable and makes a great end-of-year gift for your student's family. They are sure to cherish this handprint keepsake certificate for years to come!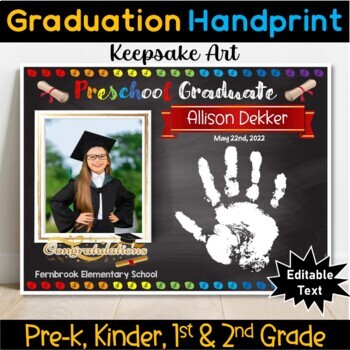 Well, with these super cute and easy-to-use Father's Day Handprint Art templates, you won't have to think about what to create any more! Grab these printables in May for students to create then store them in a safe place (or just send them home) for students to give to the dads in their life in June!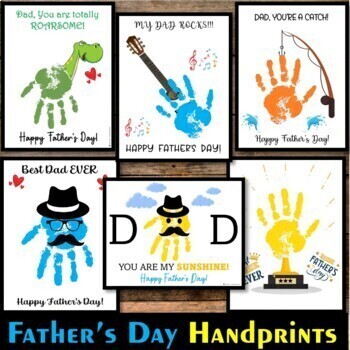 Our low-prep summer handprint art keeps students involved in the process of art and design throughout the summer months. Whether you're teaching at a summer program or just at home with your kids, incorporating these adorable summer printables will be the talk of the summer!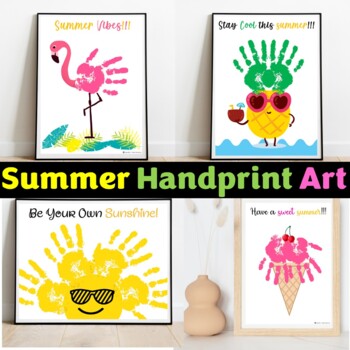 Your students will love creating a year-long handprint memory book with these printable templates. Featuring 12 months' worth of animals, seasonal favorites, and more, there is so much creative design to show off! This would be a great activity to complete during the school year and give families at the end of the year showing student growth and creativity over the period of a school year.