Looking for a fun and educational way to help your elementary school students count down to summer vacation? ABC countdown to summer helps your preschoolers get excited for the summer while also engaging them in fun and educational activities? Look no further than our ABC Countdown to Summer Printable Resource for Preschoolers! This printable resource features 26 days of summer-themed activities, one for each letter of the alphabet.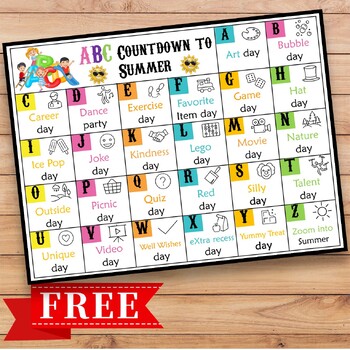 From "A is for Art Day" to "Z is for Zooming Through Summer Day," our resource will keep your preschoolers engaged and excited as they learn and prepare for the summer months ahead. Each activity is designed to be both entertaining and educational, helping your preschoolers build foundational skills in language, math, science, and more. Whether you're a parent, caregiver, or teacher, our ABC Countdown to Summer Printable Resource for Preschoolers is a fantastic way to make the most of the end of the school year and set your little ones up for a summer of learning and fun. Download it today and start the countdown to summer with a smile!
This is a ABC calendar is an editable Power Point. It's super easy to customize this calendar as per your requirement. It is an exciting way to wrap up the end of the school year and head into summer break.

Do check these MOST popular products of my store:
Also check my store for other resources for Preschool and Kindergarten :

Note: This file is for ONE classroom use only. Please do not share the link with others or post on a public class website.
____________________________________
Customer Tips:
⭐Join my Facebook Group of like-minded (15,000) teachers. ⭐