Number Hopscotch and Follow the Line is a super exciting Outdoor Gross Motor game for all ages. These are great Gross motor activities or movement games for toddlers and preschoolers for building core body muscles and it's loads of fun for the entire family.
Playing outside allows children to develop more advanced motor skills, such as agility, balance, and coordination, than children who spend the majority of their time indoors. Children who spend time outside are more likely to move in ways that test their muscles, bones, and physical endurance.

Material Needed
The only material required is Sidewalk chalk.
Hopscotch Game
Hopscotch is a street/playground game in which players must throw an object into one of the boxes and then hop through the boxes to retrieve the object. Number hopscotch is a outdoor game which has been everyone's favorite since childhood. Apart from a great gross motor activity, it is a great literacy activity too. Moreover, it can be conveniently modified into other literacy concepts like ABCs, Sight words etc.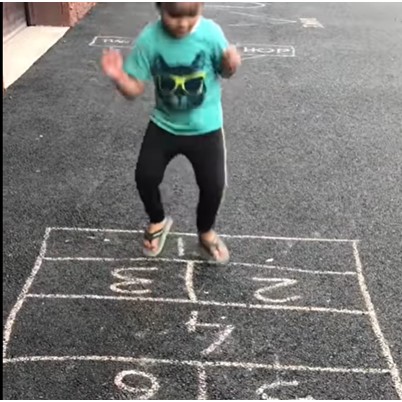 Walk the Line - Fun Movement Game
Walk the line outdoor movement game is easy to set up but a lot of fun. It is an excellent way for young children to develop gross motor skills. My kids had a great time playing it! It could also be a quick addition to your field day. Children will develop balance, coordination, movement planning, and gross motor skills such as running, jumping, skipping, and more while playing this simple gross motor game. Despite its simplicity, it is jam-packed with opportunities to hone these skills! The only material required is Sidewalk chalk. !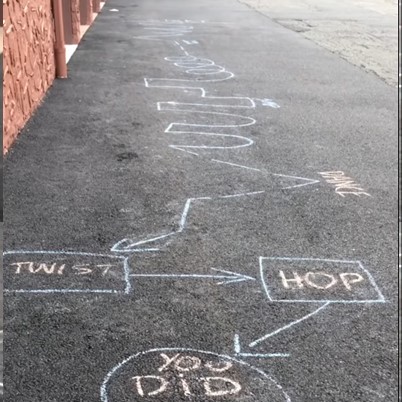 That's it! Simply take the sidewalk chalk and go outside to a large concrete area. Then, on the concrete, draw a variety of different types of lines. I made a long zigzag line, a curvy line, a straight line, and a large swirl. I went over them twice to make them stand out and less likely to be wiped away by shoes stepping on them repeatedly.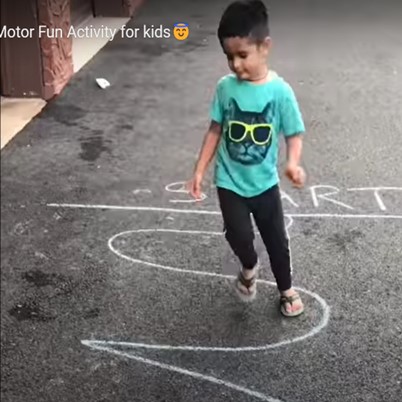 Draw all kinds of strange lines to excite your young ones, zig-zag, broken lines, curved lines etc… Ask your toddler to follow the line and you too follow the suite. Because it's always better to engage while playing with your little ones
Number Hopscotch and Follow the Line is a perfect outdoor summer activity! Indoor Gross motor activities are also a great way to engage while keep your kids active…
Terms of Use – Personal and Noncommercial use only