Snow Volcano Science Experiment is a super fun, engaging, and easy winter activity for kids- toddlers, preschool, and kindergarten students. This preschool science experiment goes very well with Snowman Math and Literacy Centers. This blog contains the very common baking soda and vinegar activity but with the twist of snow.Do not miss to check out my 30+ Winter crafts for preschool!
Looking for more 25+Christmas Art and Craft activities? Check out my blog. My kids love to do these winter name crafts during the month of January and February. Have you checked out my Mittens Math and Literacy centers yet?
Snow Volcano
A Fun winter twist to baking soda volcano, make it in the snow! All you need is vinegar, baking soda and washing up liquid ( dish soap ) to make this super cool snow volcano. The winter months can be long, but this snow volcano activity makes the perfect outdoor winter activity! Simply build a snow mountain and dig out a hole on the inside of the mountain.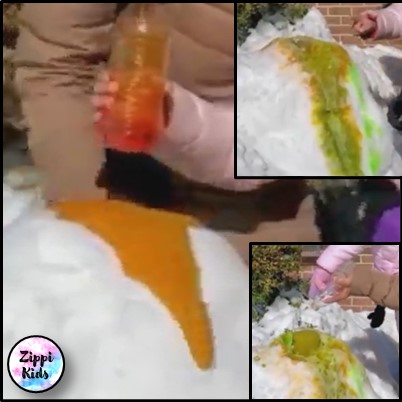 Mix up some vinegar, dish soap and food coloring in an empty bottle and grab the baking soda. Spoon some baking soda into the carved-out snow mountain and add in the vinegar and food coloring mixture, then stand back and watch the colorful explosion! This activity is the perfect way to get kids outside during those long winter months while learning about science!