Preschoolers are at the perfect age to practice fine motor skills at home and in the classroom. Whether you teach in a school or homeschool students, use this busy binder or toddler activity binder to keep kids occupied and to practice essential skills. You and your kiddos will love this printable busy book and all of the skills practiced inside. Continue reading to see what it includes and how you can use it with your kids.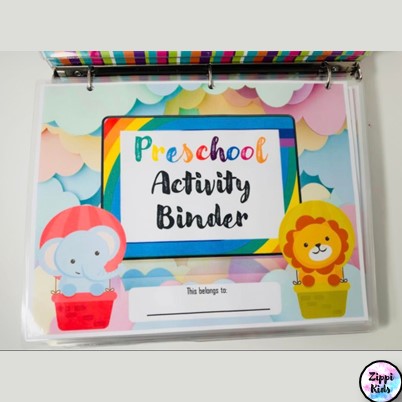 Activities Included in the Preschool Busy Book
Take a look at what is included in this fun and educational busy book for preschoolers. It will quickly become their favorite book as they practice all sorts of skills, from letters to numbers to patterns and more.
My Name
Kids use laminated letters and velcro to put the letters of their names in order.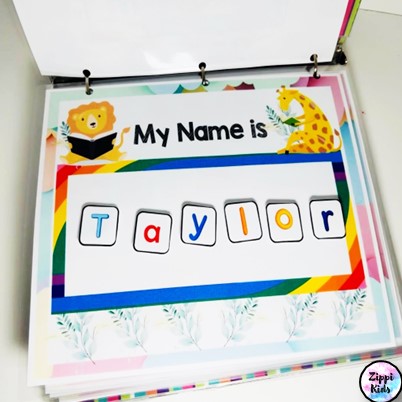 My Birthday
Use laminated pieces to label each child's age and add candles to a cake to represent that number. Early learners will love counting the candles as they add them.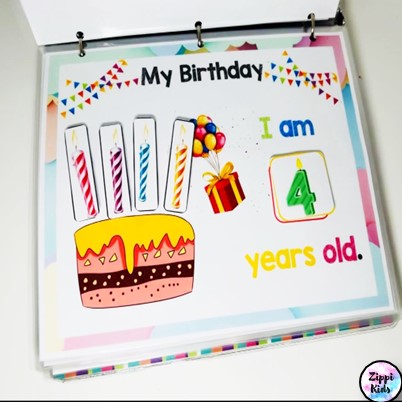 I know my colors
On this page, students match the colored crayons to the images (both with and without the words written out). There are two pages of colors to complete.
I know my shapes
The kids match shapes with adorable faces to shapes on the page. The names of each shape are displayed for students to see.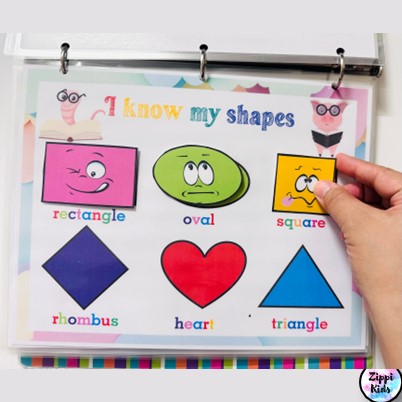 I know my ABCs (uppercase)
Kids will match the colorful uppercase letters to the black-and-white versions on the page.
I know my abcs (lowercase)
This page is the same as the uppercase page, or you can have students match uppercase to lowercase for more difficulty.
I know my numbers (1 - 10)
Students match each number to the piece on velcro. Have them count as they match the numbers. They can go from 1 to 10 or count down from 10!
Number puzzle (Jungle theme)
Using numbers and a fun image, kids will use this quiet book to complete a number puzzle. The numbers at the bottom help them complete the puzzle with ease!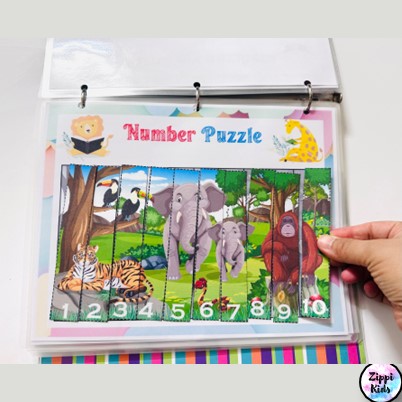 Number puzzle (Balloon theme)
Kids will love doing a second puzzle in their activity book for some critical thinking skills! Puzzles are a great way to get their brains going.
I know about weather
Using 6 different types of weather (snowy, sunny, rainy, windy, stormy, and cloudy), students match the pictures and weather words.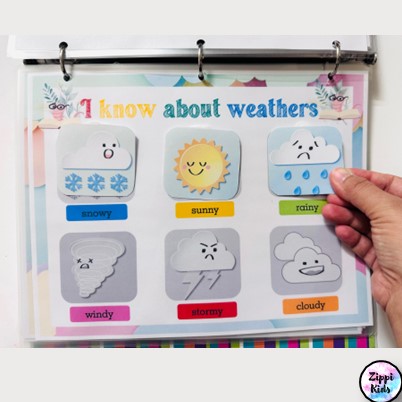 I know about seasons
On this page, kids will match pictures of each season to a black-and-white image. Kids love interactive activities like this, where they can use objects to learn.
I know about emotions
Have kids match their velcro piece to the picture of the feelings in this interactive book. This early learning skill is a great way to teach kids about big emotions and how to regulate them.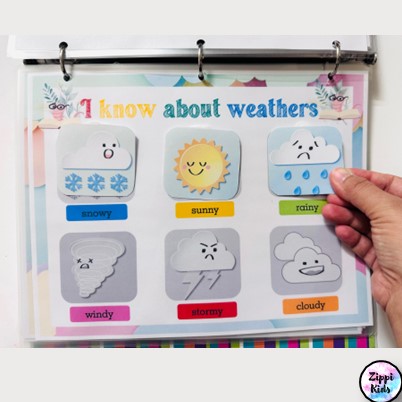 I know my senses
Discuss the five senses and what we can experience in the world with those senses. Kids love having a discussion about their senses, and it leads to fantastic communication skills in the classroom and out.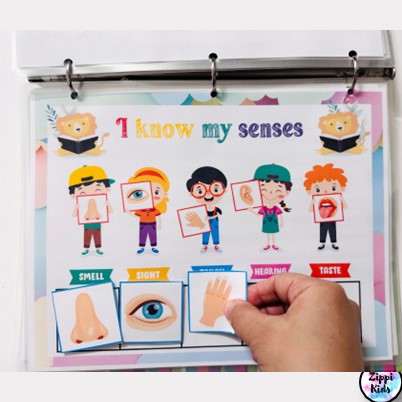 Sea animals shadow match
Kids will love matching the shadows to the sea animals on the page. This new skill will help them with shapes and other concepts later in life.
Farm animals shadow match
Have kids match shadows to the correct farm animals. This gets them to recognize shapes and differentiate objects.
I can sort by size
Using apples and beach balls, kids will put items in order by size. This is a great activity for a road trip or a rainy day!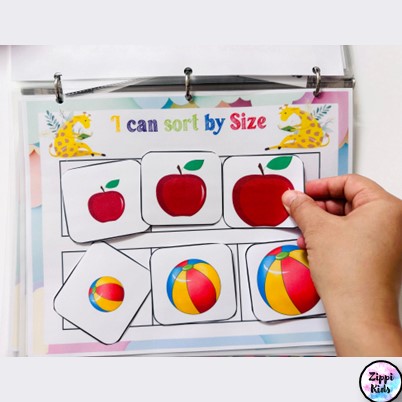 Complete the pattern
Kids will love completing the patterns on this page using problem-solving skills. There are three patterns to use on each page.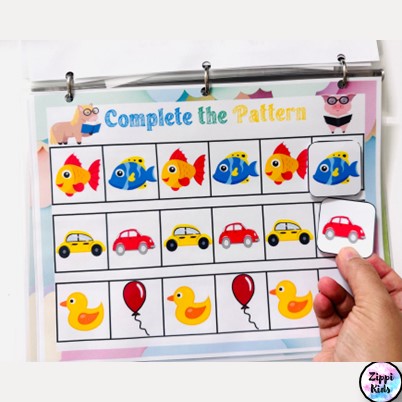 Days of the week
Kids match the days of the week by reading the word or identifying the first letter of each word. Seeing these words regularly will help them as they begin reading and writing.
Months of the year
Just like days of the week, kids will match the words for each month of the year. These busy book pages are a great introduction to the concepts of a calendar.
Ten frames counting 1-10
Practice numbers one through ten using ten frames and objects to place in the boxes. Have the kids fill the boxes from left to right and top to bottom.
This preschool learning binder is a fantastic way to practice tons of early learning skills. The great thing about preschool busy book is that you can print multiple copies, laminate the pages, and reuse them over and over. The preschool activity binder is perfect for long car rides, trips on a plane, or classroom quiet time. Young children will love the educational activities in this interactive learning binder. It's a great option for any child. Make sure to grab this activity book for your preschool or kindergarten-age children and have fun!
Checkout the video below:-