This adorable DIY winter hat name craft activity for preschool promotes letter and name recognition and fine motor skills. Create this super fun and easy DIY Winter hat craft for preschool using just simple template from my TPT store! A great fine motor activity for winter. This is a super fun, engaging, and easy winter crafts and activities for kids- toddlers, preschool, and kindergarten students. This crafts goes very well with Snowman Math and Literacy Centers. This blog contains winter activity which promotes fine motor, sensory, counting, art, and other early education skills in toddlers, preschoolers and kindergartners. Do not miss to check out my 30+ Winter crafts for preschool!
Looking for more 25+Christmas Art and Craft activities? Check out my blog. My kids love to do these winter name crafts during the month of January and February. Have you checked out my Mittens Math and Literacy centers yet?
DIY Winter Hat Craft
This adorable winter hat name craft activity for kids promotes letter and name recognition and fine motor skills. This printable winter hat craft is a perfect way to start winter with their names on it! It's an easy cut craft for preschool kids, which can be done in multiple colors. Check out the winter hat craft along with a variety of other winter activities in our FULL BUNDLE Here!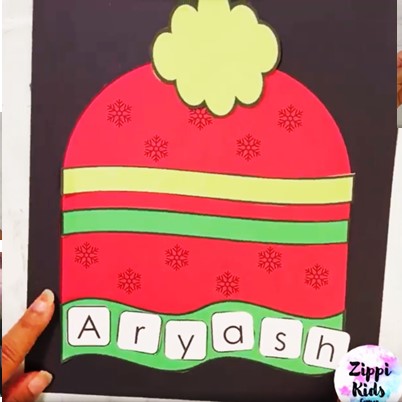 The template can be purchased from my TPT store along with other winter name craft templates.
Check out the video here: