This Turkey Popsicle Sticks Name Craft for Preschool and Kindergarten is a real fun and engaging activity for the month of November. Thanksgiving is such a fun holiday for all! You can make it even more special by using these 15+ Turkey Thanksgiving craft ideas with your preschoolers and kindergarteners. Incorporate these super easy and hands on Turkey arts and crafts activities for Thanksgiving to promote sensory, fine motor, problem-solving, math, and literacy skills all while having fun in an engaging way! Check out my TPT store to grab your Free Turkey template! For many of these thanksgiving activities, you will need this super fun Turkey Template.
If you love these thanksgiving activities, I bet you can't miss my 25+ Fall Leaf Art and Craft ideas.

When we talk about fall how can we miss Easy Printable Halloween games and 15+ Pumpkin Art and Craft Ideas. Also Take a look at the fun and easy Halloween science experiments, and Halloween Games to get your classroom into the Halloween spirit this fall. Also do not miss to have a look at my most popular Handprint Crafts templates for the whole year round!
Want to learn about some of the best ideas for fun Halloween art and craft activities in the classroom? Do Like and Follow my Facebook Page for updates on such art and craft activities!
Let's get going with this super fun Turkey craft for Thanksgiving!
Turkey Popsicle Stick Name Craft for Preschool & Kindergarten
The perfect Turkey arts and crafts activity for Thanksgiving is right here. Check out this engaging turkey name craft using popsicle sticks today and use it with your students as soon as tomorrow! This is an easy, low-prep craft that promotes letter and name recognition as well as creativity and design.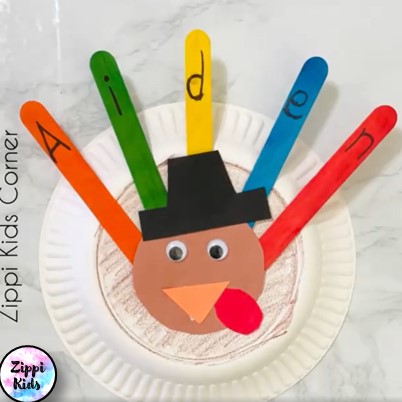 So, grab some craft sticks, paint, markers, construction paper, glue, and a paper plate to get this activity started. First, students will need to grab some craft sticks (as many as there are letters in their name) and paint them a variety of colors (think turkey feathers). While these are drying, cut a small brown circle, a black hat, a yellow or orange beak, and a red wattle from construction paper. Color the back of a paper plate brown for the body of the bird. Once the paint is dry, use a marker to write your name on the craft sticks – one letter per stick.
Now, it is time to put your Thanksgiving turkey craft together! Start by gluing your craft sticks to the paper plate. Then, glue the brown circle (head) over the top of the craft sticks. Add the hat, beak, eyes, and wattle to complete your turkey. Now you have an adorable Thanksgiving craft to share with families!
Check out the video here: