This Turkey in Disguise is a fun diy project with goes perfectly with the book "Turkeys in Disguise". My son loves firefighters, so hence we decided to disguise our turkey as a fire fighter in a very simple and easy way. You would also love to check out my 15+ Turkey Thanksgiving craft ideas for preschoolers and kindergarteners. Incorporate these super easy and hands on Turkey arts and crafts activities for Thanksgiving to promote sensory, fine motor, problem-solving, math, and literacy skills all while having fun in an engaging way! Check out my TPT store to grab your Free Turkey template! For many of these thanksgiving activities, you will need this super fun Turkey Template.
If you love these thanksgiving activities, I bet you can't miss my 25+ Fall Leaf Art and Craft ideas.
When we talk about fall how can we miss Easy Printable Halloween games and 15+ Pumpkin Art and Craft Ideas. Also Take a look at the fun and easy Halloween science experiments, and Halloween Games to get your classroom into the Halloween spirit this fall. Also do not miss to have a look at my most popular Handprint Crafts templates for the whole year round!
Want to learn about some of the best ideas for fun Halloween art and craft activities in the classroom? Do Like and Follow my Facebook Page for updates on such art and craft activities!
Let's get going with this super fun Turkey craft for Thanksgiving!
Firefighter Turkey (Turkey in Disguise)
You've probably of heard of the disguise a turkey activity that many students complete during the month of November. This is an adorable Thanksgiving craft for preschool, kindergarten, and homeschool students based on this engaging activity.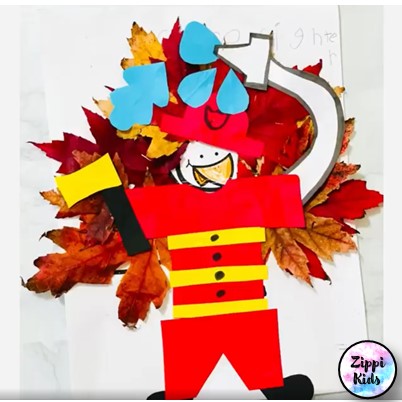 Your students will enjoy disguising a turkey as a firefighter with this adorable craft. Start with a printed turkey template. Add a variety of fall leaves to the feathers of the turkey. These leaves represent the flames a firefighter encounters. Next, using construction paper, create a uniform, boots, an axe, and a water hose to add to the design. Complete the craft by gluing everything all the pieces to the turkey. The result will be an adorable, disguised turkey!
Check out the video here: