Pre-writing activities for toddlers and preschoolers not only help young learners learn the shape and structure of the letters in the alphabet, but they also help in many other ways. Pre-writing practice teaches the basics to grasp correctly, directionality in writing, encourages fine muscle development and coordination, and also helps kids process sensory information required in the writing process. Here is a super fun Pre-Writing Activity and Fine Motor activity with Hot Glue for toddlers and preschoolers.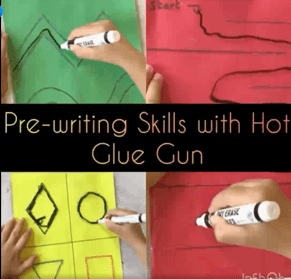 Be sure to check out my 20 Super Fun Process Art For Kids which is a great way to explore and promote creativity in kids in any season. Fine motor skills can also be promoted with fun outdoor activities in summer with fun, active and educational sidewalk chalk activities.
Pre writing activities for preschoolers are necessary to help children to develop the skills needed for legible handwriting and higher level visual perceptual skills. This hot glue gun activity help students to work on early writing skills before they ever pick up a pencil. Also check out these Indoor gross motor activities for kids.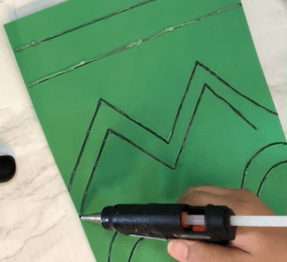 This hot glue gun fine motor activity is super east to make and can be used for a long time for morning work or early finishers in classroom setting. You can create pre-writing lines, shapes, letters, numbers, or even mazes. Have a look at the video to get started:
Materials Required to set up
Hot glue gun
Colorful construction papers
Clear sheet protectors
Dry Erase markers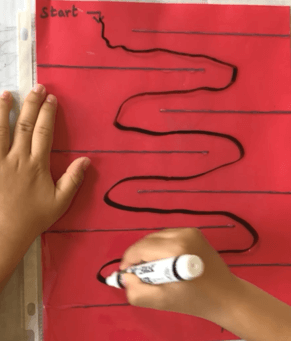 Step by Step Directions

On a colored construction paper draw the lines you wish kids to trace
Trace those lines with hot glue gun
Let it dry
Insert the paper in a sheet protector for durable use
Let kids trace and enjoy!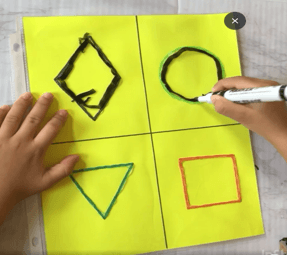 I have a collection of 100+ Fine and Gross Motor activities for toddlers Please check all the parts here: