I love using bubble wrap and cling wrap in our crafts. It add a great sensory element to the crafts! This bubble wrap or Cling wrap is super easy and low prep and I bet your preschoolers and kindergarteners are gonna have tons of fun making these cute Turkeys for November crafts!

Thanksgiving is one of my most favorite times of the year! Thanksgiving is such a fun holiday for all- kids and grown ups! You can make it even more special by using these 15+ Turkey Thanksgiving craft ideas with your preschoolers and kindergarteners. Do check out my 25+ Fall Craft ideas my preschoolers and kindergarteners. Incorporate these super easy and hands on Turkey arts and crafts activities for Thanksgiving to promote sensory, fine motor, problem-solving, math, and literacy skills all while having fun in an engaging way! Check out my TPT store to grab your Free Turkey template! For many of these thanksgiving activities, you will need this super fun Turkey Template. If you love these thanksgiving activities, I bet you can't miss my 25+ Fall Leaf Art and Craft ideas.
Want to learn about some of the best ideas for fun Halloween art and craft activities in the classroom? Do Like and Follow my Facebook Page for updates on such art and craft activities!
Let's get going with this super fun Turkey craft for Thanksgiving!
Bubble Warp or Cling Wrap Printed Turkey
I love using bubble wrap and cling wrap in our crafts. I made Cling wrap Fall tree just few days back! Make this easy turkey by using a Bubble wrap or Cling wrap! Painting this turkey craft with bubble wrap is one of my favorite projects for November!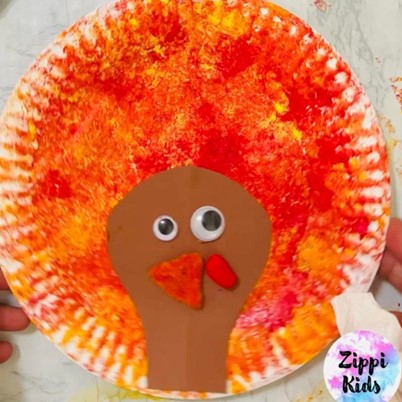 This Turkey Bubble wrap or cling wrap activity is a super fun and easy fine motor art for Thanksgiving. It is a super low prep Thanksgiving project for kids! Start by dipping the Cling wrap or Bubble wrap in paint and dab the colors onto the paper plate. Keep dabbing till the plate is almost covered in colors! Once the paint on the paper plate is dried up. Add a brown circle cut out of a construction paper and glue it to the bottom of the paper plate. Add a Pilgrim's hat if your students choose, googly eyes, a beak, and a wattle. Now your turkey is complete. Your students will love creating this simple and beautiful turkey for Thanksgiving!
Check out the video: