This adorable Puffy Polar Bear Sensory fork winter craft for preschool and kindergarten is just too cute to miss! This winter craft is perfect for arctic animals unit. It's a great fine motor and sensory activity for kids. This is a super fun, engaging, and easy winter crafts and activities for kids- toddlers, preschool, and kindergarten students. Do not miss to check out my 30+ Winter crafts for preschool
What is a sensory bag?
A sensory bag for writing is a tool that can be used to help individuals with sensory processing difficulties or disabilities to engage in writing activities. It is a bag filled with various materials that provide sensory input, such as textured items, small objects, and/or manipulatives. The individual can explore and manipulate these items while writing, which can help to increase their focus and concentration on the task. Sensory bags can be used in a variety of settings, including the classroom, at home, or in therapy sessions. They can be tailored to meet the specific needs and preferences of the individual, and can be used with a variety of writing materials, such as pencils, pens, markers, or crayons.
Looking for more 25+Christmas Art and Craft activities? Check out my blog. My kids love to do these winter name crafts during the month of January and February. Winter sensory bag goes very well with my Snowman Math and Literacy Centers and Penguin Centers.
How to make a Sensory bag?
A sensory bag is an easy and fun craft that kids can use to explore their senses. It is made by putting different things that can be touched, seen, and looked at in a zip-lock bag. Here's how to make a sensory bag, step by step:
Gather the things you need: a zip-lock bag, scissors, and different things to put in it (such as glitter, beans, water, food coloring, etc.). You can also add small toys or other things to make it more interesting.
Fill the bag: Add the items carefully, making sure not to overfill the bag. You can try putting things together in different ways to make different sensory experiences.
Seal the bag: Once you've put everything in the bag, make sure it's well sealed so nothing gets out. You could use a stapler or tape to make the seal stronger.
Explore: Tell your child to touch, squeeze, and move the things inside the sensory bag to learn more about them. You can also ask them to talk about how they feel and what they see.
Always keep an eye on kids when they are using sensory bags, since some of the things in them could be dangerous if swallowed.
Winter Sensory Snow Bag
Make this 1 ingredient sensory snow bag for writing practice of young ones. Your kids will love the Winter Sensory Bag you can make with just 1 ingredient. Plus, it's a fun way to improve fine motor skills and your ability to see.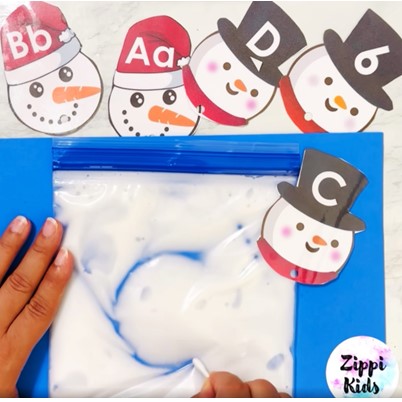 Do check out these Arctic Animal Activities and Mittens Math and Literacy centers for January .