Are you looking for some amazing plant and animal life cycle craft activities for your classroom? I have 6 different life cycle printable crafts for preschoolers and kindergartners that will keep them engaged and teach them SO much about the world. Young kids and kids of all ages will love these craft crowns, necklaces, and mini flipbooks provided in each activity on this page. Go through the stages of the life cycle for each unit and watch as kids' eyes light up!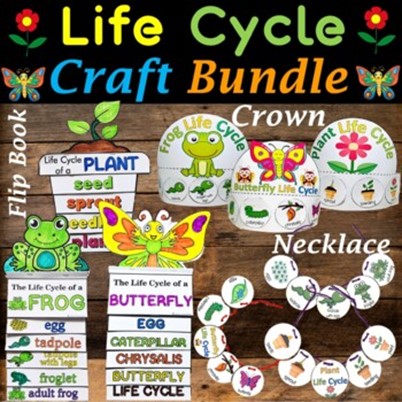 Fun Life Cycle Books for Kids
I love reading stories with my kids before sending them off to complete an activity. I compiled a brief list of life cycle books you can read with your kids before doing a fun activity. They are great for any life cycle unit and the perfect way to kick off the unit. Many of them also teach fun facts about the living things they are learning about.
Plant Life Cycles by Julie Lundgren

Pumpkin Circle: The Story of a Garden by George Levenson

A Frog's Life Cycle by Mary R. Dunn

The Amazing Life Cycle of Butterflies by Kay Barnham

Life Cycle of a Chicken by Karen Latchana Kenney

Seed to Apple by Jodie Shepherd
These non-fiction book options break down each stage of the life cycle for kids to understand. Use them alongside an anchor chart to reinforce the facts you are teaching. Then, when you use life cycle activities, they will have something to reference.
You can also find many life cycle replicas and models online to use with your kids. Insect Lore has plenty of kits for butterflies, ladybugs, moths, and more. Place items like this in science centers for extra practice with ordering the stages of the life cycles.
Frog Life Cycle
Show students how a frog transforms from an egg into a hopping frog! Animal life cycles are so cool, and this one is no exception. Kids will get to make a crown, necklace, and mini flipbook to show others what they have learned. It's a great way to practice fine motor skills and learn about some science facts. Use this frog life cycle pack to teach kids all sorts of new things. Kids will love them so much more than the life cycle of a frog worksheets at their seats.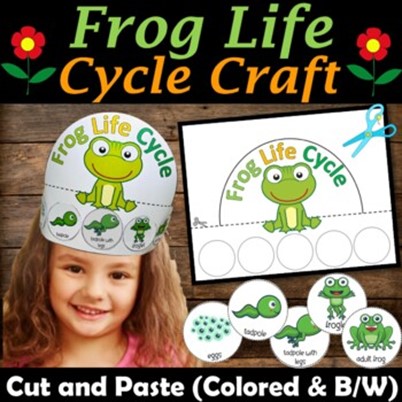 Butterfly Life Cycle
Kids will enjoy learning about a butterfly's growth from a caterpillar to a chrysalis to a butterfly. Just like the frog craft, kids get to make their crown, necklace, and mini flipbook to take home and display. The life cycle of a butterfly is one of the coolest transformations, in my opinion, and kids will love it.
Plant Life Cycle
When spring comes, show your students how plants change from seed into a full-grown plants using this plant life cycle kit. They will make a crown, necklace, and flipbook with the steps displayed. The plant life cycle hats are always a hit. Kids will love sharing these newfound facts about plant parts with their families and friends. The life cycle of a plant is such an important thing to learn about.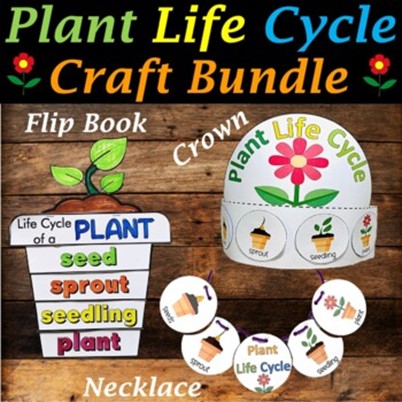 Apple Life Cycle
Invite kids to learn about apples' life cycle using this fun printable set. Apple trees are an essential part of our ecosystem, so why not teach kids about them in a fun way? Younger and older students will love these activities and share them with loved ones afterward. Kids will learn about the apple life cycle using a crown, necklace, and mini flipbook printable.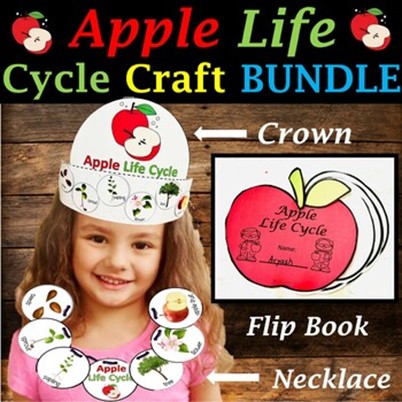 Pumpkin Life Cycle
The life cycle of a pumpkin is one of the coolest things to learn about in the fall. Use the crown, necklace, and flipbook to reinforce what you teach! If you have the time, show students the inside of a real pumpkin afterward! Kids love learning about living things and how they grow and change over time. Go through all the life cycle stages together and complete the fun printables in centers or small groups.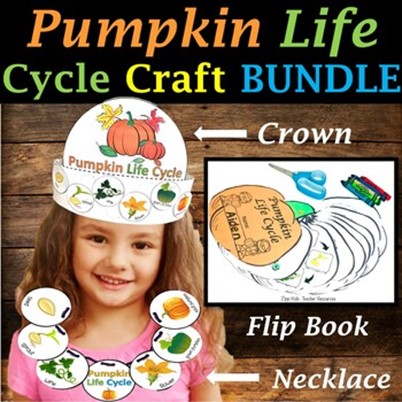 Turkey Life Cycle
Introduce students to the life cycle of a turkey using these interactive printables. Students will make a crown, a necklace, and a fun flipbook to review. Add this to any science center to add a sense of wonder and discovery as kids learn about the progression from an egg to a turkey with these hands-on activities.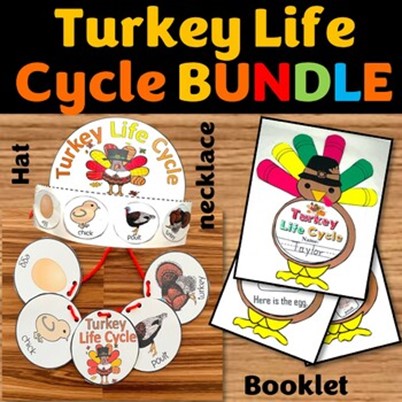 Summary
Using these life cycle activities with your young learners is very simple and fun. They are fantastic for a small group activity or a whole group craft. Read a life cycle book and then complete the crafts. They can all be printed on regular or construction paper for simple hands-on experiments in the classroom or at home. Use the activities for different life cycles throughout the year to provide lots of fun and teach kids in an engaging way.