Wonderful DIY snow globe winter crafts for kids and preschoolers. Get inspired by mystical snow globes and get creative with this photo fingerprint snow globe craft. This is a super fun, engaging, and easy winter crafts and activities for kids- toddlers, preschool, and kindergarten students. This crafts goes very well with Snowman Math and Literacy Centers. This blog contains winter activity which promotes fine motor, sensory, counting, art, and other early education skills in toddlers, preschoolers and kindergartners. Do not miss to check out my 30+ Winter crafts for preschool!
Looking for more 25+Christmas Art and Craft activities? Check out my blog. My kids love to do these winter name crafts during the month of January and February. Have you checked out my Mittens Math and Literacy centers yet?
DIY Snow Globe Craft for kids
This DIY Snow Globe Photo Winter Craft for Preschool, Pre-k is a great keepsake art project to be sent home with Students. Parents would love and cherish this winter snow globe craft for their lifetime! This is super easy and an adorable December or January activity for your little one.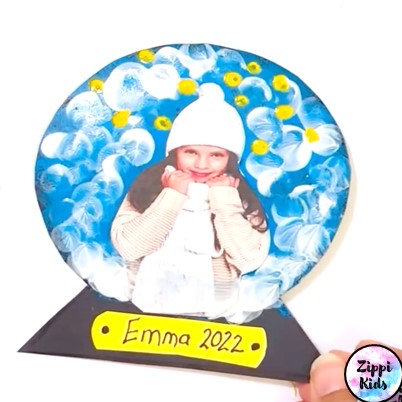 One of my favorite crafts we recently made is the snowman snow globe. It is a simple craft to make with materials you likely already own and a wonderful way to celebrate winter.
Supplies for Snowman Snow Globe Craft:
black cardstock paper or construction paper
sponge
scissors
white and blue paint
sharpie marker
q-tips or cotton swab
plastic bowl that is circle or something similar
glue stick
How to make this DIY Snow Globe Craft with photo
take a round lid to draw the outline of the globe( I used kirkland mixed nuts bottle cap)
draw a triangle to look like a stand of the globe
cut out the entire drawing
next, dab a sponge in blue paint and cover the circular area with blue paint
take a picture cut out of the child and stick it in the center of the globe
use your finger to dab white paint all around the picture to look like snow
let it dry
once dried, use a q-tip to make yellow stars above the child'd photo
cutout a piece from yellow construction paper
write the child's name and year
glue it at the bottom of the globe
to make the craft durable, laminate it!
Check out the video here: