Paper Punch Confetti Christmas Tree - Create this stunning Christmas masterpiece that is beautiful to frame using simple green construction paper paper scraps! Your preschool and kindergarten students are going to have a blast working on this cool "paper punch confetti Christmas tree" kid craft!

You can check out these cute DIY Christmas crafts for your preschoolers and kindergartners:
Looking for more 25+Christmas Art and Craft activities? Check out my blog. I love the month of December as it has a special festive feeling. Christmas is the time of the year my students awaits as we have a blast at our Christmas party with these super thrilling Christmas Bingo, Santa Says ,Would you rather and more Christmas Games!!!
Paper Punch Confetti Christmas Tree
To recreate this Paper punch Christmas tree you only need black and green construction paper, a single hole punch, school glue and brown paper for stem to make this vibrant Christmas tree art project. It's the ideal way to put your hoard of leftover paper to use. Those are the ONLY supplies needed, hence a super low prep Christmas project! You don't need to go out and stress about finding things at the craft store!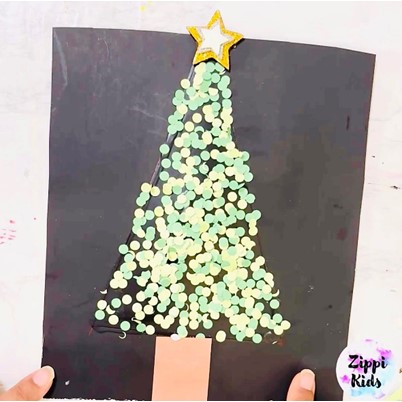 Start by drawing a triangle on black construction paper using a scale, which looks like a Christmas tree. Then Grab the single hole punch and your different shades of green colored paper sheets. Make a lot of the "circles" that will become your leaves by punching holes in them.
Go all out with this stage because you will need a lot of paper punches! Doing the hole punching over a small bowl is an excellent idea because it will keep the paper circles contained until you need them.
Next, spread school glue over the triangle and spread it with a paint brush.
To create the "leaves" for the tree, you'll need to quickly sprinkle, spill, and rub your paper hole punches ALL over the glue. Continue gluing and adding paper circles until you have. Shake off any extra debris and place somewhere for it to dry completely.
Then proudly exhibit your eye-catching paper confetti Christmas tree creation for everyone to see!
Don't forget to take some pictures and send them to us!
Christmas themed Name Crafts are too cute to be missed! Also do not miss my Ginger breadman Literacy and Math Centers. Students will practice early math and literacy skills like number matching, sight word recognition, letter and sound matching, and so much more! Keep reading to check out each individual activity or grab all of them in a bundle Christmas Literacy and Math Centers for Preschool, pre-k and Kindergarten.
Check out the Video here:
As December begins I get students to make these super cute Christmas Name Hats which is a great craft for name recognition and fine motor skills. December is also the month to teach kids about Holidays around the world!
Do not miss to grab these Winter FREEBIES from my Website: