This Handprint Christmas Wreath Photo frame For Preschool is a great keepsake art project for preschool and kindergarten students... Making a large version and hanging it on a bulletin board would make this activity enjoyable for children to complete in a classroom setting. It's ideal to create this handprint wreath for your home or even just to do with your kids as a Christmas gift. What grandparent or parent wouldn't adore receiving it? Do check out more of such cute DIY 10+ Christmas Ornament crafts
You can check out these cute DIY Christmas crafts for your preschoolers and kindergartners:
Looking for more 25+Christmas Art and Craft activities? Check out my blog. I love the month of December as it has a special festive feeling. Christmas is the time of the year my students awaits as we have a blast at our Christmas party with these super thrilling Christmas Bingo, Santa Says ,Would you rather and more Christmas Games!!!
Handprint Christmas Wreath Photo frame Keepsake
Super cute and easy! Our adorable handprint Christmas wreath art would be a great addition to your holiday bulletin board or use this when making holiday cards for friends and family! All you need is red and green paper, scissors, paper plate and glue! So simple and so cute!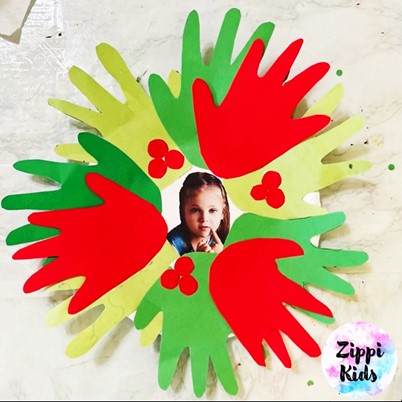 To create a template, trace your child's hand onto the chipboard. (Trying to stop your kid from moving is the hardest part of the whole thing). Cut out several the hand template in green and red color. Grab a paper plate and photo of the student( Preferably face only). Glue it in the center of the paper plate.
Next start gluing the handprints, each of them was facing out or in depending on what you feel looks better. Complete it by adding red berries cut out of red cardstock paper. Attach a ribbon to it to use as a hanger.
Christmas themed Name Crafts are too cute to be missed! Also do not miss my Ginger breadman Literacy and Math Centers. Students will practice early math and literacy skills like number matching, sight word recognition, letter and sound matching, and so much more! Keep reading to check out each individual activity or grab all of them in a bundle Christmas Literacy and Math Centers for Preschool, pre-k and Kindergarten.
Check out the Video here:
As December begins I get students to make these super cute Christmas Name Hats which is a great craft for name recognition and fine motor skills. December is also the month to teach kids about Holidays around the world!
Do not miss to grab these Winter FREEBIES from my Website: