Here comes the 100th day of school! Check out these wonderfully engaging and highly educational activities that promote fitness, reading, writing, and of course, mathematics! This includes a superb Free Digital 100 Days Google slide activities. There are a variety of digital resources included to help you engage students on the Smartboard or in distance learning as well as printable hands-on activities. Check them out today! Do check out these 30+ Easy Winter Crafts for Preschool.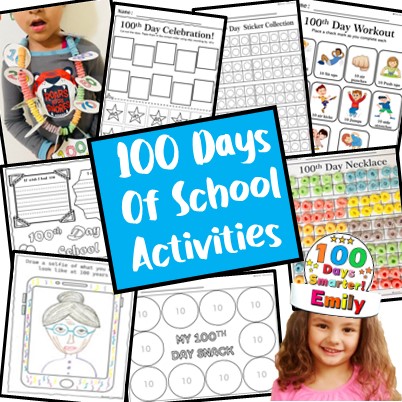 Check out the Bundle Here
The 100th day of school is always such a fun and exciting day for your young learners! Students are SO EXCITED to have conquered the first 100 days of school. This is the perfect time to show off what they have learned in reading, writing, and especially math! The following activities are the perfect addition to your 100th day of school! My Free Digital 100 Days Activities are a huge hit with prek and kindergarten classrooms.
100 Days Smarter Certificate
The 100th day of school is a big achievement for young students! These super cute certificates are sure to be loved by both kids and parents! The best part about these certificates is they have auto-fill capabilities! Simply type your students' names, your name, and the date and the certificates will auto-fill with one student per certificate!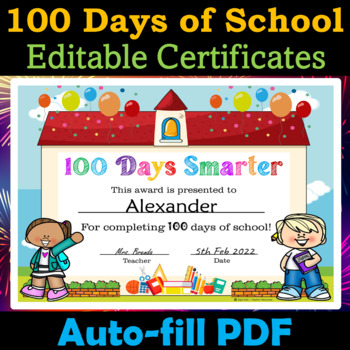 Check out the Certificates Here
To use
· Open the file with Adobe
· Type in your class list, teacher name, and the date
· Select and print the sheets you would like to use
Tips & Tricks
· Opening the file in "preview" mode or with a PDF program other than Adobe may alter embedded fonts. To avoid this, download the file and open it with Adobe reader.
· Adobe is a free program that comes on most computers. If you do not have it you can download it using Google.

100th Day of School Hats
These adorable (and completely editable) 100th day of school hats are the perfect addition to your 100th Day of School activities! With an editable, auto-fill design, you're going to love using them and your students are going to enjoy wearing them! There are three different designs included in this resource
· 100 Days Smarter
· 100th Day of School
· Happy 100th Day of School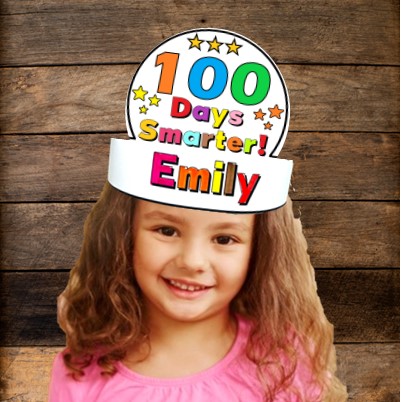 Check out the hats Here
Each design comes in a fully colored design or a black-and-white version so that students can design it themselves. We suggest printing these hats on cardstock for a more durable design.
100th Day of School Necklace
Looking to add a little extra flare to your 100th day of school activities? Check out these adorable 100th-day necklaces. This is the perfect fine motor activity for young students (PreK through grade 2). Students can make these necklaces using beads, cereal, or any other small manipulatives with a hole.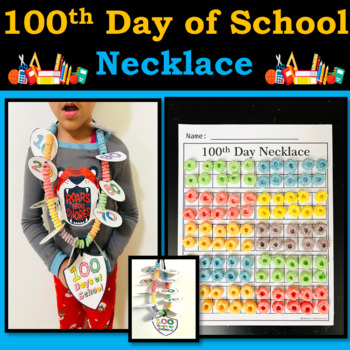 Check out the necklace Here
Included in this resource is
· A 100 Piece Necklace Mat
· 10, 20, 30…100 Necklace Separators
· "100 Days of School" to hang from each necklace
To begin students will use the 100-piece necklace mat to count out 100 items that will be added to the necklace. We like to use cheerios cereal, Fruit Loops cereal, or beads, but you can use anything your heart desires! Once students have counted out their 100 items, students will start adding them to their necklace string. For every ten items, students will add the next "ten" separator. Once finished, teachers can help tie the string and students can proudly wear their creations!
100 Days of School Bracelets/Wrist Band
100th Day of School Bracelet/ Wrist band Craft and Activity is a super fun activity for your preschoolers and kindergartners. Kids will love to make and wear these kindness Bracelets/wrist bands.. This 100 days of school week bracelet craft is one of the easiest and most adorable to do for 100th day week.. Just purchase, print, and create bracelets/ wristbands using colored paper or just use the coloring ones.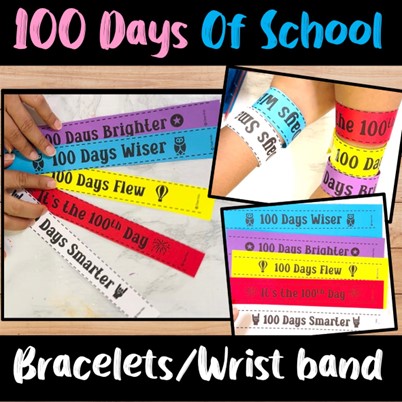 Check out the bracelet Here
100th Day of School Google Slides( Free Digital 100 Days Activities)
Google slides (or PowerPoint slides) that you can add to your 100th day of school activities to make learning fun and engaging. Your students will love each slide and completing the activity, singing, dancing, or reading! Check them out below!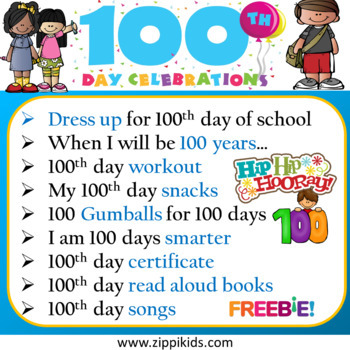 Download this Freebie Here
This Free Digital 100 Days of School Google Slides includes a vast variety of activities for kids to have a fun filled 100th day at school:
100th Day of School Celebration – Use this slide to celebrate your 100th day of school with students. This could be up when students arrive or while you are completing any of the activities listed in this blog post.
100th Day Songs – Six songs to help celebrate the 100th day of school. Count, sing, and enjoy learning with this adorable slide!
100th Day Reading – This slide contains six different books that can be read aloud for to students via the Smartboard or a learning management system (like Google Classroom). Your students will LOVE hearing these stories about the 100th day of school.
Dress Up for the 100th Day – Celebrate the 100th day of school in style! Students will get creative and dress like they are 100 years old!
When I will be 100 years old – Show this slide when you want students to write about or discuss what they will look like, where they will live, what hobbies they will have, and more! This is a very fun activity for students of all ages.
100th Day Workout – Your students can get in shape on the 100th day of school by completing 10 reps of 10 different activities. Activities include push-ups, jumps, stretches, and more!
100th-Day Snack – Your students can create a wonderful 100th-day of-school snack using this slide. Ten pieces of ten different items like marshmallows, goldfish, raisins, and the list goes on! Yum! Your students will enjoy counting to 100 while eating this yummy snack!
100 Gumballs – Practice counting to 100 or counting by 10s with these two adorable slides. By adding 10 gumballs to each of the gumball machines, students will count to ten by ones and tens.
I am 100 Days Smarter – Students can write (or help you write) something in each bubble about what they learned over the past 100 days of school. Parents will enjoy seeing this slide completed too!
I am 100 Days Smarter Counting – Students will place stars in order to skip count by tens on this cute slide. Your students are going to love this adorable crown design and you'll love that they are practicing skip counting!
100 Days Completion Certificate – The perfect certificate to print for students showing they are 100 days smarter. Students will enjoy bringing home this certificate and bragging about all they have learned.
100 Days of School Fine Motor Activity (Free Printable)
It's almost the middle of January, which means that the 100th day of school is almost here. As a parent or teacher, it's hard to believe that 100 days have already passed every year. It's such a fun day for our students, and I like to make the whole day about everything "100."
I love working on kids' fine motor skills and making sure they have meaningful fine motor activities every day. Today, I can't wait to talk about my 100th Day of School fine motor pack!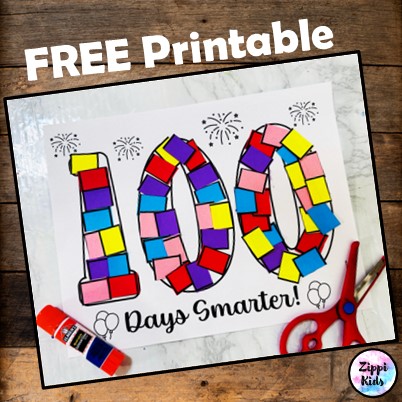 Download this Freebie Here
100th Day of School Celebrations
Here's a super adorable craft resource to make the 100th day of school special. It covers a variety of activities including workouts, collections, selfies, and more! Students of all ages will enjoy these adorable crafts. There are 10 activities included in this resource.
100th-Day Workout - Work out in 100 moves with this adorable workout chart. Ten moves are included in this workout mat. Students will complete ten reps of each of the ten different moves; making 100 workout moves completed on the 100th day of school!
100th-Day Sticker Collection Mat - Collect 100 stickers with this collection mat. Save stickers all year long to give students to use on this 100th day of school activity. Leave a pile of stickers on the table and let students choose their own or hand them out to each table. Your students are sure to enjoy counting and showing off their sticker collections.
100-Year-Old Selfie - Can you guess what you'll look like at 100 years old? Will you have grey hair or maybe no hair at all?! Students LOVE this activity and showing off their drawing skills. This activity works well with any elementary student. Students in early elementary and pre-K may need a face template to draw, but older students are sure to do a great job while drawing their selfies!






Check out the necklace Here
100th Birthday Celebration - How will you be celebrating your 100th birthday? In 100 years will you want to go bowling, have dinner at your favorite restaurant, or play your favorite game? Your students will have so much fun writing about what their 100th birthday will be like. Take the guesswork out of writing on the 100th day with this adorable activity.
I wish I had 100 (writing activity) - Your students will write about 100 things they wish they had. What do you think they will write about? Popular topics in the past have been to write about 100 wishes, 100 dollars, 100 pets, or 100 trips to Disney. No matter what they write, you're going to enjoy reading them!
I can do 100… (writing activity) - What do you think you can do 100 of? Pushups? Jumping jacks? The students will write all about it in this activity. I know for me, I can easily do 100 blinks of my eyes or 100 silly faces. This activity is always so fun – especially when students start showing you what they can do!
If I had $100 (writing activity) - Probably my favorite activity included in this pack! Your students will write about what they would do with 100 dollars. It is always so fun to see what they think 100 dollars will buy! Sometimes the answers will make you laugh hysterically while others want to make you cry.
I want to eat 100… (writing activity) - Can you eat 100 of something? What do you think your students think they can eat 100 of? Hamburgers? Steaks? You're going to LOVE reading this adorable writing and your students will think this writing is so fun! Perfect for any student in grades preK through grade 5.
Cut and Paste Activity - Students will cut and paste stars to create an adorable 100th-day-of-school craft. This activity promotes counting by 10s as well as counting by 1s. This is the perfect assessment activity for students in Kindergarten through Second Grade.
100th-Day Snack Mat - This is the snack mat of your student's dreams! Count out 100 items to take to snack on the 100thday and let students count them out on this adorable snack mat!
Additional 100th Day of School Activities
Students will build with 100 items. There are so many fun things to be done with young students for this activity! Give students 100 items (can be the same or different) and they have to create a structure or tower. Take this activity to the next level and make it a competition about who can build the tallest tower. Materials you can build with could be toothpicks and marshmallows, cups, or playing cards. The sky is the limit!
Create a 100th-Day Poster
Students can create a 100th Day of School poster to decorate the hallways, classrooms, or bulletin boards around the school. Encourage students to use bright colors, the number 100, along with pictures to create these adorable posters.
Make a Picture Using the Number 100
Students will love showing off their creativity and art/design skills with this activity! Students will get a paper with the number 100 written (or printed) on it. They will then have to make that number 100 into a new design. Students can create things like animals, nature scenes, or monsters! Let their creativity run wild!
100th Day of School Shirts
This is one of my favorite things to do for the 100th day of school! Find a local artist or create your own class shirts! Grab enough t-shirts from your local Walmart or Hobby Lobby and have each student add their name and/or handprint to the shirt. You can add designs to your shirts with paint and sharpie markers. Encourage your students to wear their shirts to school on the 100th day! This 100th-day of-school activity really promotes a strong classroom community!
100 Items School Scavenger Hunt
Do your kids love scavenger hunts? Create a 100-item scavenger hunt around the school or your classroom on the 100thday. Students will be given a list of 100 items they need to seek out. During the school day, if a student finds/sees that item, they will get to check it off the list. Items on the list could be as simple as a "blue book" or as difficult as "Mrs. Smith." This scavenger hunt activity provides students with an engaging activity promoting counting to 100 and could easily be given to ALL students in the school. Your students (and school members) are going to LOVE working with you on this activity!